Pedro Gomez who is well-known as a Phoenix-based reporter for ESPN's SportsCenter show has taken the sports commentary to a new height. He is also a baseball reporter and the member of the Baseball Writers' Association of America.
Pedro who is the voting member for the Baseball Hall of Fame is also the happily married man. He is currently living with his three children and wife in Phoenix, Arizona.
Pedro Gomez's Short Bio: Career, Net Worth
Pedro Gomez who belongs to Cuban-American ethnicity was born on 20 August 1962 and currently is of 55 years of age.
He attended Coral Park High School in Miami and later went to Miami-Dade Community College and eventually to the University of Miami for further study in journalism.
Pedro began his career as a reporter for various high school sports and other similar events; he finally landed in a writing job in San Jose Mercury News covering the team Oakland Athletics in 1992.
From 1994 to 1995, he served as a national baseball writer for the Miami Herald. Before that, he wrote for the San Diego Union and the Miami News from 1988 to 90 and 1985 to 88, respectively.
Pedro, who has the net worth of around $2 million dollars, came to ESPN from the Arizona Republic where he worked as a sports columnist and national baseball writer since 1997.
In the year 1999, he won first place, sports enterprise, for "Discovering the Home I Never Knew" from the Arizona Associated Press Managing Editors Association. Not only that, but he also won the Silver Ingot Award, the Arizona Republic's award for an outstanding series or body of work. Gomez has covered more than 15 World Series, 10 All-Star Games and is a voting member for the Baseball Hall of Fame.
As of now, he is a regular on Wednesday Night Baseball, and in the year 2014 made his play-by-play debut on ESPN for a game between the Arizona Diamondbacks and the San Diego Padres.
Pedro Gomez joined ESPN in April 2003 as a reporter based in Phoenix, serving as a correspondent on SportsCenter, Baseball Tonight and additional studio shows.
Pedro, a dedicated ESPN sports reporter, earned a huge sum of income after establishing himself in the network. According to career bliss, ESPN Sports Reporters earn $41,000 annually or $20 per hour salary. Moreover, Pedro's net worth as of 2018 is $2 million dollars.
Pedro Gomez's Relationship With His Wonderful Family
Pedro Gomez got married to his loving wife Sandi, and with her, he shares three children. He is the father of the two sons named Rio Gomez and Dante Gomez, and a daughter named Sierra.
His elder son Rio Gomez is a baseball player who was recently drafted for the famous baseball team Boston Red Sox. He considers his father as his biggest inspiration and without his support, he would have quit baseball after high school. He said it was his dad who believed in him.
Though he talks less about his wife and other children, he sometimes mentions about her wife in his tweet about going out with her for a movie.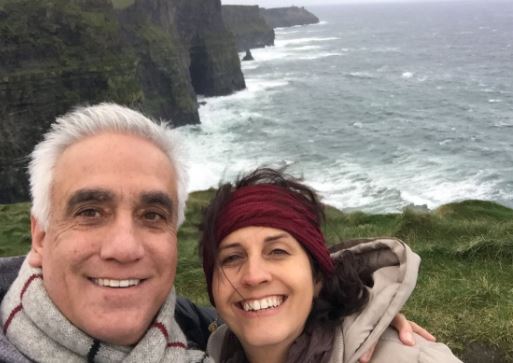 Pedro Gomez and his Wife Sandi in Ireland on 7th December 2017 (Photo: Pedro Gomez's Twitter)
Recently, on 7 December 2017, Pedro and his wife celebrated the holiday period in Ireland and tweeted the picture of a breathtaking location. His recent photographs and tweets suggest that the couple is having quality time and is no way near thinking about divorce so far.