Paul Gerke is a TV news personality at 12 News serving his audience with flash news and updates.
And if you don't know him, you can switch your channel to 12 News where you'll spot him anchoring Today in AZ and hosting Cardinals Locker Room. He became part of 12 News from July of 2017. 
In the past, he worked at ABC 12, WBKB-TV 11, KIVI-TV and WFLA TV, serving in various positions as studio crew, sports director and news anchor between 2007 and 2017. 
With his vast experience of working in various media houses, Paul has covered international sporting events and programs including the 2016 Summer Olympics in Rio de Janeiro, Brazil, and the 2018 Winter Olympics in Pyeongchang, South Korea.
Read more: Emayatzy Corinealdi Married, Husband, Parents, Net Worth, Bio
As a media personality, he has managed to make a decent net worth for himself. While the exact numbers are not disclosed, Paul undoubtedly earns more than the average salary of a news anchor at 12 News that ranges from $71K.
Paul Gerke Bio: Age, Family
The host of Cardinals Locker Room stands tall at the height of 6 feet 1 inch (1.85 meters) and celebrates his birthday on 21st August every year. 
Although Paul Gerke mentioned his age to be 26 on 27th January 2014, in his twitter account, his actual date of birth is not known to many.
Paul Gerke grew up in a joyous family environment. His parents raised him along with his three siblings. 
Paul has maintained his personal and family life to himself; thus, not many details about his family are known to the public's knowledge. But his social media has helped his well-wishers to know a bit about his family and his life at times.
Paul is the perfect son of his dear parents. He doesn't hesitate to put on pictures of him with his parents as his admiration and care for his parents is very heartwarming and cute.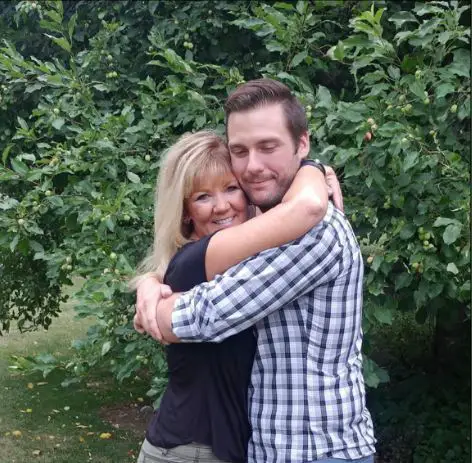 Paul Gerke wishing his mother, Pamela Alexy Gerke, on her birthday on 19 September 2018 (Photo: Paul Gerke's Twitter)
His love isn't limited only to his parents. He shares a strong bond with his siblings and motivates them with his inspiring word.
Furthermore, Paul never forgets to enjoy brotherly time with his two brothers, Kelvin Gerke and Jon Gerke.
Know about: Taylor Dooley Wiki, Bio, Boyfriend, Dating, Parents and Net Worth
As per his education, Paul Gerke graduated from the University of Michigan-Flint where he studied Bachelor of Arts (B.A.) in Mass Communication and Media Studies. This education qualification helped him to lead his career as a media personality. 
Married To Wife?
Paul Gerke is a famous face among millions of people who follow his news and programs. Not just that, his good looks and happy-go-lucky personality has made girls fall in love with him.
Where many famous people share their married life to their fans, Paul has kept his dating life hidden from the public.
However, there were a few times when Paul talked about his relationship status through his Twitter, stressing on how everyone around him was getting married and having babies while he was still unmarried and busy in his work desk. 
Whatever his current relationship status is, his closed ones are eagerly waiting to hear the news of Paul Gerke married to a beautiful wife.