Paige DeSorbo believes that childhood- although being a very small portion of one's life, influences the type of adult one grows into in so many ways.
And, thus the glamorous model and reality show star credit her ideal upbringing to have shaped her to be the person she is today, confident and comfortable in her skin beside the fame that keeps following her even more as time goes by.
While in recent times, the stunner rose to a bigger picture after she joined the cast of Bravo cable network's 2019's Summer House edition.
Paige DeSorbo's Bio (Age), Family Life
Paige began modeling by the time she was five, and it was her mother who would drive her to New York City for auditions.
All thanks to her mother, Paige, now, age 26, is already a strong personality to watch out for in the industry.
Continue Reading: Summer Duncan Bio, Age, Wedding, Net Worth
Growing up in the city of Albany, New York, in a hamlet called Loudonville, Paige went to a catholic school all along, until her college.
She admitted to being a part of a middle-class family, who shared the closest bonding. Paige, who inherited the Italian ethnicity from her folks, gushed-
My childhood was ideal, my dad came home every night at 6:00 and my mom would have dinner ready for all of us to sit down together and eat as a family. Looking back on that now as an adult I realize how much that shaped me as a person to have that intimate time at the end of the day with my family.
The cheerleader and class president in school, with confidence, claimed that she got the best of both the worlds and never once felt that her mother was forcing her it into a career in modeling.
Instead, she enjoyed all of it!
Dating Life With Boyfriend
Paige, the fashion writer for Betches Media, sure lives her life to the fullest, and her life is beautifully open out to the public, especially the dating life with her love.
The Bravo TV fashionista, standing to the most good-looking height, found herself enticed to the stunning entrepreneur, Perry Rahbar- the Founder and CEO of the dv01, a hub between lenders and capital markets.
Paige had a bit of possible affair going on with the Summer House co-star Carl Radke in the past.
However, this is the first time; she is involved with certainty to someone. This is the surest she has ever been in her romance life.
And the social media accounts of the couple can do all the talking, when in doubt.
Seemingly, the couple confirmed the rumors to their being an item with their first public-made picture together on the 5th of May 2019.
It was Perry who made an effort as he captioned- "Yea We Are."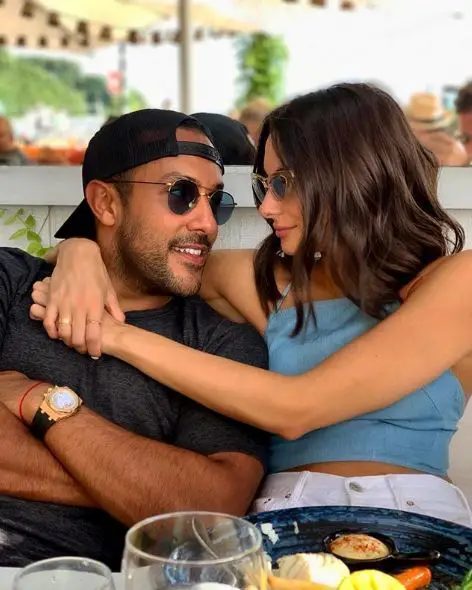 Paige DeSorbo enjoys the moment with her boyfriend, Perry Rahbar on 12 August 2019 (Photo: Paige DeSorbo's Instagram)
Then followed several other lovey-dovey captures where they showcased their match-made-in-heaven chemistry.
Both of them are equally active when it comes to flaunting their baes on the internet.
And, Perry sure has his own ways of keeping up with his girl, who has a fabulous sense of fashion and style.