The influential American woman who is highly remembered for her struggle on stopping the breast cancer is the author Nancy Brinker. With serving from various ambassadors and working in her organization, she is a prominent name in the field of social work and anti-cancer societies.
Short Career And Bio
Nancy Brinker, whose real name is Nancy Goodman, was born on 6 December 1946 in Peoria, Illinois to a Jewish family. She was raised by her father Marvin L. Goodman, who was a commercial real-estate developer, and her mother Eleanor Goodman, a homemaker. From 1982 till now, she works as the founder of Susan G. Komen for the Cure.
When Nancy was a child, she had troubles with math but was an excellent memorizer, so her parents thought she was bright since she did well in her tests. When she performed appallingly on her SATs, her parents knew she had a learning disability.
However, her performance was outstanding and was accepted at the University of Illinois at Urbana Champaign.
In 1980, her sister Susan Brinker died at her age 36 due to breast cancer. Being distressed by her sister's death, Nancy promised she would do everything she can to end breast cancer, and in 1982, she formed Susan G. Komen Breast Cancer Foundation.
With her struggle in an organization, today, Nancy, who herself is a breast cancer survivor, invests more than 2 billion dollars for breast cancer research and treatments. For her works, Nancy had won many awards including Presidental Medal of Freedom ceremony, the highest civilian honor in the US at WhiteHouse on 11 August 2009.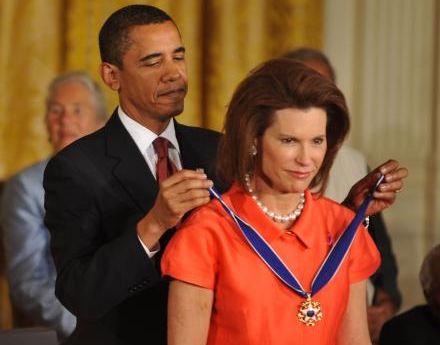 US ex-president Barack Obama awarding to Nancy Brinker, on 11 August 2009 (Photo Credit: Spokeo)
Other than her organization, she has also worked on a political background; she served as United States Ambassador to Hungary from 2001 to 2003. Nancy also served as 30th Chief of Protocol of the United States from 14 September 2007, to 20 January 2009, where American ex-president George. W Bush had nominated her to the post. She currently works as Goodwill Ambassador for Cancer Control in World Health Organization (WHO).
Nancy, besides her political career, has inspired many through her books as well. She has published various books such as The Race Is Run One Step at a Time: My Personal Struggle – And Everywoman's Guide to Taking Charge of Breast Cancer (1990), Winning the Race: My Personal Story and Every Woman's Guide to Wellness (2001), Promise Me: How a Sister's Love Launched the Global Movement to End Breast Cancer (2010) and much more.
Moreover, she had raised her salary more than 64 percent in 2012 with compare to April 2010 to April 2011. She made $684,717 in 2012 as the CEO of her organization.
Working as an ambassador and an activist to stop cancer through her organization, she has earned herself a decent amount of net worth, despite the fact that the exact figures remain confined!
Nancy Brinker Love Life Amid Her Career
Talking about her married life, Nancy's first husband was Robert M. Leitsein, an executive of Neiman Marcus. They shared one son named Eric Brinker. But their relationship could not last, and they divorced in 1978.
After her split up, she got married to Norman E. Brinker on 13 February 1981. Norman was a founder of Brinker International as well as a pioneer of casual dining industry. Nancy and her husband Norman were also the contributors to George W. Bush first presidential campaign.
But in 2000, shortly after US presidential election, the couple divorced and decided to follow their paths. However, Norman remained a board member of her organization Susan G. Komen for Cure even after the split. Shortly in 2009, her ex-husband Norman passed away on June 9 at Colorado Springs, Colorado.
Nancy is currently single and lives her life composedly with her son Eric, concentrating on her organization and leading her role to treat cancer.