Mona Charen is known as American political commentator who often writes about foreign policy, terrorism, politics, family structure and many more. She has also received the Eric Breindel Award for Excellence in Opinion Journalism.
As much as Mona is opened up about her career and her love and passion towards her work helped to reach the soaring heights, she is more of a reserved soul when it comes to sharing the information about her family and love life. 
Mona Charen's Personal Life Beside Journalist
Political analyst Mona Charen is married to Washington, D.C lawyer, Robert P. Parker. They share three children; Jonathan, David, and Benjamin.
The duo has been staying together as a family for a long time but does not seem to reveal any information about their personal life. Mona is unwilling in reveal her personal life details. But somehow while searching Mona's social media, she has revealed that she is in a healthy relationship with her husband and son. Back on 22 January 2018, she posted a picture revealing that her husband and son are a great fan of Philadelphia Eagles American team.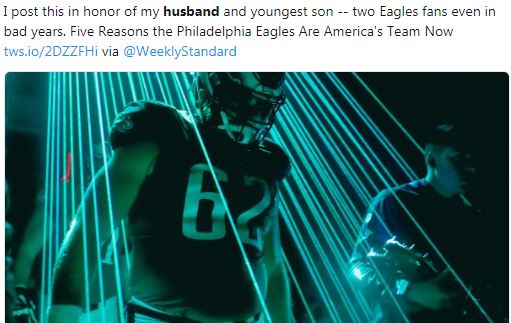 (Photo: Mona's Twitter)
This post on her Twitter clearly confirms that she is married and is blessed with a kid. 
Besides that, there is no adequate information about her marital relationship with her husband. Moreover, her personal life is always behind the limelight despite having an active professional career. 
Short Bio And Career On Mona Charen
American native Mona Charen aged 61 was born in 1957 and celebrates her birthday every year on 25 February.
Talking about her education, Mona graduated from Barnard College, Columbia University also holds a degree in law from George Washington University. She is a daughter of George and Claire Charen.
Mona started her career as an editorial assistant at National Review magazine in 1979. Later on, she joined as the Nancy Regan's speechwriter and worked at White House office in 1984. After that, she began working on President Ronald Reagan's team in the White House Office of Public Liaison and office of Communication.
Likewise, she launched her syndicated column which is one of the fastest growing columns in the industry in 1987. It includes more than 200 papers, including The Washington Times, Baltimore Sun and many more. Mona spent six years of her life as a regular commentator on CNN's and other outlets. She became the senior fellow at the Ethics and Public Policy Center in 2014.
As per now, she is a regular contributor, podcast and frequent guest on television and radio public affairs programs. Being a successful journalist and the writer, Mona undoubtedly earns a right amount of salary from her established career and although the exact figures of her net worth remain confined. The average wage of United States is around $ 40 thousand.