It was only later in life when Megan Parry knew that what she really wanted to be was a meteorologist.
And, looking back, this is the only regret she has in her life.
Well, she is glad that she is now blessed with a career in broadcasting.
But, she cannot help thinking that the whole process would have been much easier had she gone to a college for broadcast meteorology from the very beginning.
But then, today, she sure made up for those extra steps taken and the time wasted working her way up in the industry.
Engaged To Married Details With Husband
Megan met the love of her life while she was busy getting her Masters and did not know that she would someday marry Gregory Raneiri.
But then fate had something else planned out for them.
Get A Glimpse: Shyann Malone Wiki, Husband, Baby, Parents
From what it appears, Megan and her "Greg" have been inseparable ever since the 12th of March 2012 when it all began; they were officially an item.
Then came the day, 3rd January 2017, when the couple got engaged after going out for quite some years.
And, Megan made sure to share the several new developments at different phases of her life among her social media circle.
It was a beautiful day and the most heavenly place, Dreams Playa Mujeres Golf & Spa Resort, when Megan and her long-haul beau signed up for their happily ever after.
On the 8th of April 2018, the love birds sealed their "I do's" with a kiss, and the attendees of the ceremony could not be happier.
Dressed in the most beautiful wedding ensemble, the bride and groom were all smiles and living their ecstasy.
Rocking into the reception, the pair were introduced as husband and wife as they danced to their favorite moves.
And the very next day, the bride herself confirmed, the day she got married could not have been more perfect or more fun.
From what it seems, the gorgeous was indeed excited for the next chapter of her life, and her fans were more than thrilled for her after they saw to her get married for the second time at the Little Neon Chapel in Las Vegas, a few months after their first one.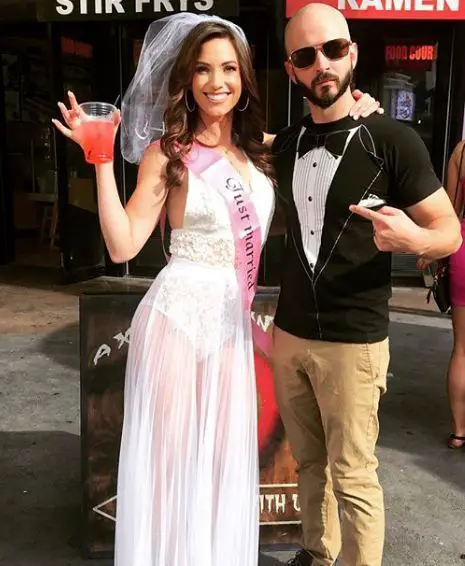 Megan Parry gets married to her husband, Gregory Raneiri, for the second time on 26 July 2018 (Photo: Megan Parry's Instagram)
The only reason behind their multiple weddings is that the bride has always been obsessed over a cheesy Vegas wedding and a perfect Cancun wedding.
Continue Reading: Here's Alison Bologna Biography: Age, Wedding, Husband, Engaged
And the fact is people would not mind seeing them get married even for a hundredth time.
Megan Parry's Bio: Age, 10News Salary
Megan, the San Diego based Morning/Midday meteorologist at KGTV's 10News, earned her Bachelor's degree in Earth and Environmental Science.
And after briefly working as an Environmental Scientist, it was then that she went back to school to go after her dreams of becoming a meteorologist.
She finally received the Masters of Science in Geo-sciences with an emphasis in Broadcast Meteorology.
And, in the meantime, Megan, age 34, has completed more than five decades of excellence with the 10News.
And undoubetedly, the channel has done her the justice paying her with the abundance of respect and, most importantly, the salary she deserves.
Once voted the second as the Most Popular TV Personality of Southern Oregon, Megan is yet to confirm the figures to her paycheque.