Maureen Bunyan is a TV Journalist, anchor, and reporter, who is also the founder and board member of International Women's Media Foundation (IWMF) and National Association of Black Journalists. She is also the president of Maureen Bunyan Communications, Inc. Already retired, Maureen is a legendary figure in the news industry.
Maureen Bunyan Age, Education
Born in 1945, Maureen was raised on the island of Aruba by her parents, Arthur and Wilhelmina Bunyan. Maureen's parents who had moved from Guyana to Aruba looking for better job opportunities immigrated to the United States when she turned eleven as her father landed a job in Milwaukee, Wisconsin. Maureen who was born in Aruba but later moved to the U.S holds an Aruba-American nationality.
Worth The Read: Hetty Chang Wiki, Age, Married, Net Worth
Her father who always focused upon the importance of education pushed Maureen and her two sisters to gather as much knowledge as they could.
Even after the death of her mother, Maureen worked hard as a student. She received her B.A. degree in English from the University of Wisconsin-Milwaukee. While in college, Maureen worked as a freelance writer for the Milwaukee Journal. After college, Maureen attended the Columbia University School of Journalism in 1970.
Maureen Bunyan who celebrated her birthday recently is now of age 74.
Maureen Bunyan Retired After 40 Years Of News Anchoring
Maureen started her career with Boston's WGBH-TV and New York's WCBS-TV as soon as she graduated. In 1973, she became the lead news anchor and reporter at WTOP-TV, the CBS affiliate in Washington, D.C., which was a massive achievement for her.
She went to the Harvard University Graduate School of Education in 1980 to get her M.A degree while she still worked as an anchor. In 1999, Maureen was offered a position at the WJLA-TV ABC 7 News in Washington D.C. as a primary anchor which she took unhesitantly.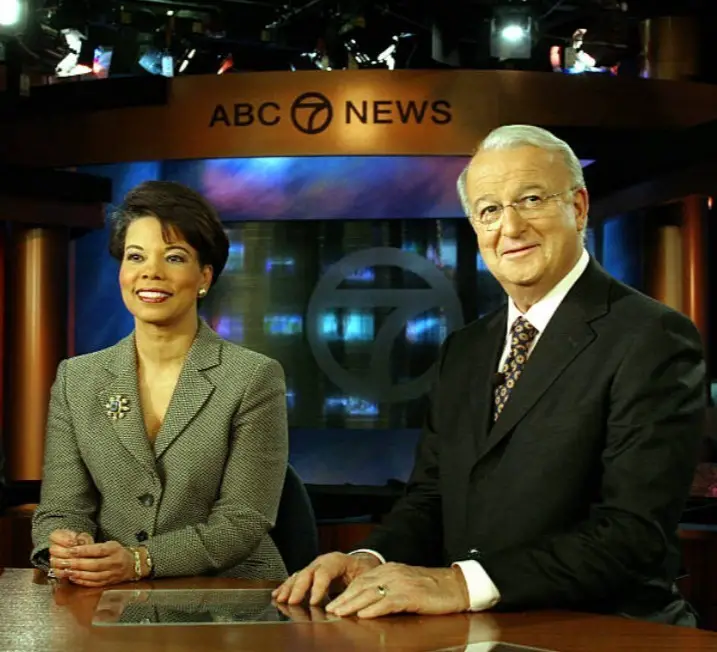 Maureen Bunyan gets ready for the studio shooting on-air promos for ABC 7 News with her WJLA co-anchor, Gordon Peterson (Photo: gettyimages)
During her career, Maureen also served in PBS' Religions and Ethics Newsweekly as the chief correspondent from 1997 to 1999. She also worked as a substitute host for Talk of the Nation on National Public Radio and The Derek McGinty Show on WAMU Radio.
See Also: Channel 7 Jadiann Thompson Age, Salary, Height, Dating
Her achievements earned her numerous awards like Emmys, Journalist of the Year in 1992, the Immigrant Achievement Award from the American Immigration Law Foundation in 2002 and many more which took her career to a great height.
Although Maureen retired from the news industry, her career amassed her an enormous amount of salary and net worth.
Maureen Bunyan Married To Husband?
Maureen Bunyan is a professional woman who likes to keep her private life away from the limelight. As a busy journalist and anchor, she was always ready for her on-air time. Maybe this was also why the news anchor had no partner or rumors that surrounded her love life. Though it is not precisely known on why she is not married, it might be her career she dedicated herself into that kept her from finding a husband and starting a family.