The fact that life is a mixture of sadness and happiness is ubiquitous. Everyone's life is bound to face ups and downs. But, there are only a few people, who don't give up while having their "downs" and keep battle with the sad times to savor their moments of felicity.
Likewise, the life of Mariah Huq was also once filled with total downs- from husband's cheating to miscarriage. However, she never allowed the pain to engulf her, and worked hard to garner success and good net worth.
The creator and executive producer of Bravo's Married to Medicine also happens to be the cast member of the show. Mariah's real motive behind the creation of the show is to establish a platform for women, especially the women of color- where they could be elevated the inherent power of sisterhood.
Mariah Huq's
Married Life: H

usband / Children

There is no doubt that the American producer, who is at the age of 40 is a married woman. She is married to her husband, Dr. Aydin Huq, and has two children named Ethan and Lauren.
Don't Miss: Hanna Battah Wiki, Age, Husband, Height, Fox 4
Delving furthermore into the relationship life of Mariah and Aydin, it is known that the couple met each other at Atlanta. While both of them were having some meal over Justin's restaurant, the pair fell in love with each other. After a couple of years of dating, the couple tied the wedding knots and married on 19 March 2005.
While the couple may have been married for more than 14 years now, their love for each other is still fresh and agile as it was when they first met in Justin's restaurant. The couple even shared a photo relishing their fourteen years of togetherness in the year 2019.
Even though the couple never shared the sad moments of their married life, Mariah uncovered the truth that her husband Aydin had cheated her in 2015. The revelation came upon in an episode of Married To Medicine that aired on 16 February 2018. She revealed the story while empathizing to her castmate, Dr. Jackie Walters.
Despite the setbacks in their relationship life, the couple did not divorce as they quickly settled the matter between them. And it was in the same year, that all of a sudden, Mariah suffered miscarriage leading to the loss of her twin children.
Since the cheating issues were settled between them, Aydin took care of Mariah and never let her feel down. To make her feel happy during such devastating moments, he even bought a media company for her.
Today
On 11 January 2019, Mariah was alleged on the use of some illicit recreational drug. And someone claiming to have seen Mariah using the medicine is nonother than her co-star from the show, Quad Webb-Lunceford.
Mariah and Quad have had their differences since the beginning. However, Mariah affirmed the accusations to be defamatory. She indirectly warned that the patently false accusations could even be legally actionable.
Mariah also provided the reports of the drug test that came out as negative for all the suspected drugs.
Sadly, she revealed that this kind of unfortunate incident could hurt her and her family members.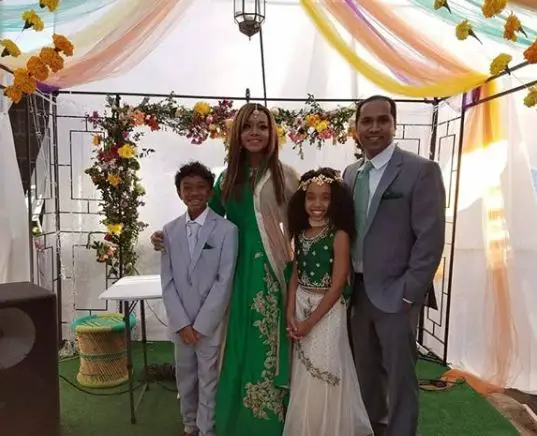 Mariah Huq, celebrating Ramadan with her husband, Dr. Aydin Huq, and her two children- Ethan and Lauren on 7 May 2019. (Photo: Mariah Huq's Instagram)
In regards to her married life, there are several rumors of the couple's not getting along. Even some speculations on his husband cheating her are currently circling. Nonetheless, Mariah recently posted her 'so-happy' family on Instagram on the occasion of Ramadhan- celebrated mostly by the Muslims.
Mariah Net Worth
Mariah is the producer of Bravo's famous TV show Married To Medicine. Previously, she served as an associate producer at a local NBC affiliate, WRCB TV. She also hosted and produced the lifestyle show, Trends.
On top of that, Mariah held positions in Pfizer, an American pharmaceutical corporation and LMA Worldwide which added more to her immense net worth. Speculating at her success, her education in Business Science and Communication Science from the University of Tennessee has helped her to flourish in her career.
As of now, Mariah has a massive net worth of $4 million. Moreover, she has a lavish house with comfortable rooms and dinings.