Malika Andrews is a star reporter at ESPN platforms, including the likes of ESPN.com, SportsCenter, and ESPN Radio.
Prior to joining the ESPN team, Malika worked as a reporter for the Chicago Tribune for a year, and way before that, she served as the reporting fellow in the sports department at The New York Times.
The NBA reporter has so much going for her throughout her career.
The attendee of the University of Portland received a degree in Arts with honors, all the while serving as the editor-in-chief of The Beacon- the university's student newspaper.
More From ESPN: Prim Siripipat Married, Husband, Boyfriend, Dating, Wiki, Bio
And, in recent times, apart from the astounding salary ESPN pays her with, she has amassed realms of awards and honors for her incredible role play in the industry.
But then the exact figures to her earning so far is yet to make it to the media outlet.
Malika Andrews Bio (Age), Birthday, Height
Malika grew up raising toasts to her birthday every year on the 27th of January. As of the year of 2019, the number to explain her age is 24.
From what it looks like, going through her social media, Malika shares a beautiful bonding with her sister, Kendra Andrews- who, like her, owns a career in sports reporting.
A storyteller at The Athletic covering the Denver Nuggets and NBA, Kendra is a complete look-alike of her sister Malika, and the sister duo can even pass as twins.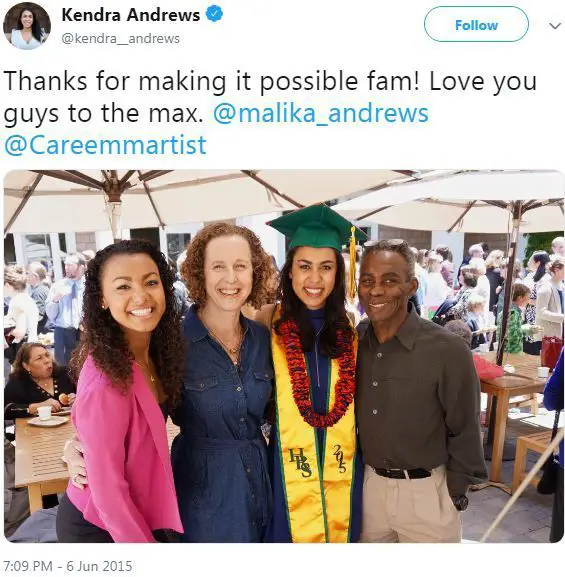 Malika Andrews on her sister, Kendra Andrews's graduation with her parents on 6 June 2015 (Photo: Kendra Andrews's Twitter)
And more to the Andrews family is the father and mother who married out of their racial circle and gave a mixed ethnicity to their young ones. Thus setting a beautiful example even to their daughters.
No doubt the couple who saw to their 27th wedding anniversary, instilled upon their kids the importance of family and love over anything else in life.
The family pictures the Andrews sisters shared up until now speaks it all.
Husband?
Standing to an unrevealed yet good-looking height, Malika is not yet married to husband, for if she had, it would not go unnoticed from her active social media presence.
Get Word: Elle Duncan Age, Married or Engaged, Husband, Boyfriend, Bio
She is someone who reports on her workplace even on Valentine's Day, and the very fact about her only makes it harder for her fans to speculate anything on her dating life.
Perhaps she is happily engaged to her career at the very moment in her life.
Or, maybe she is just not yet ready to make the big announcement with the fear of it coming in between her professional life.
Up until then, her deeply concerned fans and followers should continue with the patience they have shown so far, for they are loyal to her and respect for her right to privacy.
Only time will unfold her beautiful love story!