LZ Granderson is an award-winning American journalist, who is popularly known as a senior writer and columnist for ESPN the Magazine and ESPN.com. He also writes the weekly column for CNN.com.
Besides that, Granderson has always been open about his personal life: from getting married to a woman to being gay. Due to his openness, LZ was even named as The Journalist Of The Year by the National Lesbian and Gay Journalists Association. 
LZ Granderson: Openly Gay    
LZ Granderson is not only the supporter of "Gay and Lesbian," but he is a gay himself. He openly stated his sexuality in a column for CNN.com.
As a typical black man growing up in a rough neighborhood and doing drugs, LZ was not comfortable to come out of the closet.  So, had tried to pray the gay away (no puns intended) but he finally found the courage to face reality.
In an interview with ABC News on 27 June 2017, LZ revealed that the reason he disclosed his sexuality was for his son. He even said that coming out as a gay was not easy, but finally telling the truth to the world and living a life that he wanted had been a massive step for him in his life.
In the year 2013, Granderson defended NBA center Jason Collins' decision to quote himself as the first gay male professional athlete in a dominant North American Sport.
He was also the 2009 winner of the Gay and Lesbian Alliance Against Defamation award for online journalism and was also nominated for the award in 2010.  
Not only that, but he was also named as The Journalist Of The Year by the National Lesbian and Gay Journalists Association.
LZ Granderson: Being a Father Of A Son
Granderson, who is an openly gay sportswriter, has one son named Isaiah from his previous marriage to a woman. He was formerly married to his a partner at the age of 21. But the two separated at the age of 25. The  information about his ex-wife is confined till date.
After the separation, LZ got involved in an affair with Steve Huesing, the ULTA Beauty's Merchandising Operations Director and the Interim President of Chicago's Marriage Equality USA.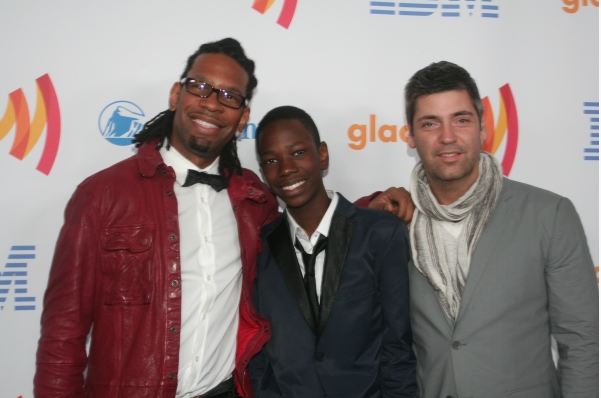 LZ Granderson with son Isaiah and boyfriend, Steve Huesing at the 21st Annual GLAAD Media Awards in New York City on 13 March 2010.
(Photo: broadwayworld.com)
After dating for a year, the pair exchanged their wedding vows in May 2016. As of now, LZ is leading a happy married life with his partner and son in Chicago, Illinois.
LZ Granderson's Bio!
LZ Granderson, also known as Elzie Lee Granderson, was born on 11 March 1972 in Detroit, Michigan, United States and is of 46 years of age.
He graduated from Western Michigan University in Kalamazoo, Michigan, and joined ESPN. 
Before joining ESPN and Page 2, LZ was a sportswriter at The Atlanta Journal-Constitution and a columnist at The Grand Rapids Press.
Being a senior writer and columnist for ESPN The Magazine and ESPN.com's Page 2 he has contributed to the channel's SportsCenter, Outside the Lines, Around the Horn, SportsNation, and ESPN First Take. 
With a handful of jobs, LZ's net worth is growing day by day. However, his salary is not disclosed.