Luke Russert is a well-known news correspondent who formerly worked at NBC News for eight years from 2008 to 2016. 
Between that time-being, he hosted for the NBC News' shows, including NBC Nightly News, TODAY, NBCNews.com, and MSNBC.
His Bio, Parents
Luke Russert was born on 22nd August 1985 in Washington, DC. 
He was raised by his parents, Tim Russert and Maureen Orth, who both happened to be journalists. 
Read About: David Aldridge Married, Wife, Son, NBA, Net Worth
His father, Tim was an MSNBC broadcast journalist who hosted the weekly interview program Meet the Press. He untimely passed away in June 2008 at the age of 58.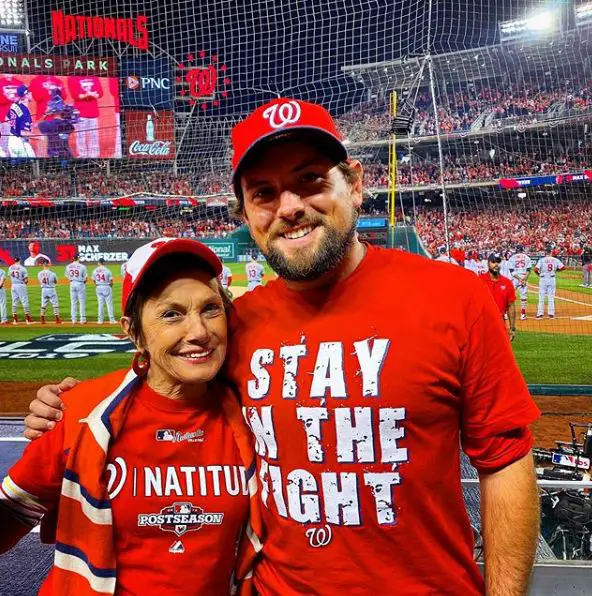 Luke Russert clicks a picture with his mom, Maureen Orth, on 15 October 2019 (Photo: Luke Russert's Instagram)
After his father's death, Luke looks after his mother, Maureen, with whom he was also seen during a baseball game on 15th October 2019. 
Decision Of Leaving NBC
In 2016, when Luke Russert announced that he would discontinue his service from NBC News, the announcement shocked everybody, including the other fellow news correspondents as well as the audiences because such sudden decision from one of the highly regarded correspondents was least expected. 
After taking the decision, he released a statement where he mentioned that he was not leaving NBC to join any other news media, but was "taking some time away from political reporting" so that he can pursue his other interests. 
The statement was also shared on his Twitter account on 13th July 2016, where he further added, 
It's fair to say my broadcast career began in an unusual way after college graduation and the death of my father. As a result, I threw myself into the work and never took the time to reflect, to travel and to experience many things that would have given me a clearer sense of what my future should be...
Here, his statement makes it clear that he wishes to pursue other interests of his and expand his knowledge further by doing so. 
What Is He Doing Now In 2019?
In 2019, Luke Russert has been exploring the world and expanding his knowledge with the history & facts of various countries.
While sharing his traveling experiences on Instagram, he has also disclosed the places that he has explored which includes gulf countries like Qatar, UAE, Armenia, and Oman. 
Interesting To Read: Jeremy Schaap Married, Wife, Girlfriend, Gay, Family, Height, Bio
Perhaps, after leaving his journalism profession, Luke has opted to go around places and explore, hear stories, and share them with the world.
Hence, he has not even been known for joining any office-based profession since his exit from NBC. 
Interesting Facts About Luke Russert
He is a supporter of gay rights and even attended the wedding of a friend on 7th August 2015 who happens to be gay. 
He has an ex-girlfriend in Maryland, Baltimore, whom he often visits whenever he is in that town. 
He attended Boston College for his higher studies. 
He visited the United Arab Emirates' Dubai city on 14th November 2019.