Instagram Model Lira Mercer is a former exotic dancer and hip-hop model. With over 3.8 million followers on her Instagram, Lira enjoys massive popularity.
Going through the tough phase at early childhood, Lira established herself as an Instagram star back in 2013. Her courageous fighting spirit provides a huge life lesson for the young generation.
Lira Mercer's Relationship Status
The glamorous model Lira Mercer hit the news headlines with her involvement with numerous celebrities. Besides being linked up with Drake and Meek Mill, Lira was also rumored to be with famous Canadian singer Justin Bieber.
Don't Miss: Chris Potoski Bio, Net Worth, Wiki, Age, Relationship
During her career as a hip-hop model, Lira became cozy with American rapper Rick Ross. After dating for a while, Rick proposed to her with an 11-carat ring in 2015. Without any delay, Mercer accepted his proposal, and the couple got engaged in the same year.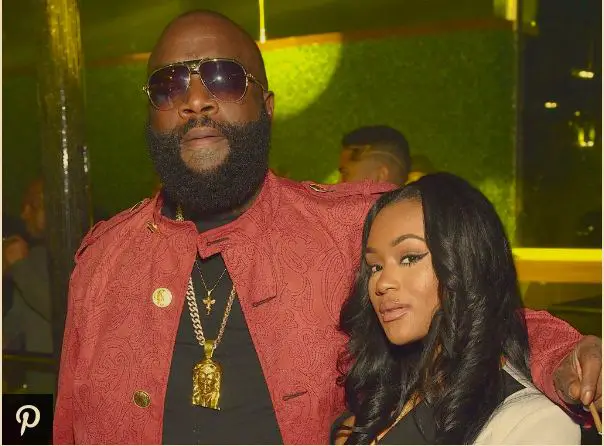 Lira Mercer with boyfriend Rick Ross (Photo: eonline.com)
However, Lira's past relationship came back to haunt her. Ross found the old picture of Lira with Meek Mill which was the cause of their split up. Meanwhile, Lira accused Rick of doing sneaky things behind her back and mentioned it to be a prime factor for a failed two-month engagement.
Moreover, in 2017, Lira's intimate moments with her ex-boyfriend Lance Stephenson was leaked online. Lira immediately filed a police report to punish the people responsible for such ill activity.    
Apart from the feuds and scandal, Lira Galore was reportedly dating Pierre Pee Thomas, the CEO of Atlanta indie label Quality Control Music since May 2018. After three months of dating, the couple even got engaged in August 2018.
It was also reported that Pierre, proud parent of his teenage daughter, proposed Lira with a $2 million ring that she can be seen flaunting on her social account.  There are also rumors swirling around that Lira is currently pregnant.
Read Also: Kayla Rae Reid Wiki, Age, Net Worth | All About Ryan Lochte's Wife
On the other hand, City Girls rapstress and QC signee Yung Miami is now allegedly dating Lira Mercer's fiance, Pierre Pee Thomas. She is even caught denying the couple's engagement on Instagram.
A fan tweeted Lira that someone in his camp said she was not engaged to Pierre. In response to that tweet, she responded 'Because Pee mad today but whatever floats everyone's boat I ain't buy that ring myself . & that's the tea'.
Lira Mercer's Bio: Family, Career, Net Worth
The famed model was born on August 31, 1993, in Houston, Texas. She has a height of 4'11" with a dark complexion. Her parents are of African descent. Lira's mother, Michele is widely-known as an entrepreneur and the owner cum CEO of Wine Fine Forever.
Lira had a miserable time growing up. Her father, Terrence abandoned Lira when she was a child. His parents were young when they got married and conceived Lira. Due to the immaturity to handle family responsibility, Terrence left his family and handed a massive trauma to Lira and her mother.
The early setback resulted in a massive breakdown of Lira's young life. At the young age of 14, Lira got pregnant. She blamed his father for her wrecked lifestyle.
Interesting:  Gary Younge Married, Wife, Children, Family, Ethnicity, Tara Mack
Eventually, Lira carried herself up and started her career as an exotic dancer. After working as a stripper for some while, Lira initiated her Instagram profile and gained popularity posting pictures with A-list celebrities. Soon enough, Lira established herself as a glamour model and got an opportunity to for Hip Hop Weekly magazine in 2014.
With an enormous rise in her stardom, Lira featured on OWN's reality TV show, Iyanla: Fix My Life, in which she talked about her tragic childhood life caused by her father's in-human behavior.
As of now, Lira has had an enormous fan following on her social media account. Crossing 3.8 million followers on Instagram, Lira is reported to enjoy compelling net worth.