Lincoln Younes, age 27, initially wanted to pursue his career in sports. Having played soccer for 14 long years, Lincoln, in the latter days, realized that he would instead enjoy an acting profession. The performing whim came to him after he starred in a school production of Peter Pan.
Today, the Australian-star is glad to have chosen the very path in life. He is a prominent young artist to watch out for in the Australian film industry. Eventually, he is seeking for likewise global prominence.
Lincoln best rose to fame after he starred as 'Romeo Kovac' in the Australian drama series, Tangle. The convincing portrayal led him to be at the receiving end of the ASTRA Award for Most Outstanding Performance by a Male Actor.
Meanwhile, in recent times (2019), Lincoln can be seen as 'Danny Garibaldi' in ABC's drama, Grand Hotel ever since the first season premiered on 17 June 2019.
Lincoln Younes Family Background
Born in Canberra, Australia Lincoln owns dual nationality. Often asked to remark on the topic, he tweeted- "I'm half Lebanese, half Aussie!". Alongside he wrote that he acquired an Arabic surname, in case his fans and followers wanted to know more of him.
Get Word: Chris Chalk Bio, Wife, Net Worth
When it comes to his early life, Lincoln has the most beautiful story to tell. He was raised solely by his single mother, who worked as a journalist. He fundamentally grew up in newspaper offices located in Bendigo, Victoria. By the time he saw to his 14th birthday on 31st of January, he was used to writing reviews for the movies for the paper. His mother's work-ethics sure got plastered onto him once and for all.
More to his family is his younger brother, Jordan. Time and again, he keeps mentioning his mother and brother in his social media pages. It is obvious that he shares an amicable bonding with them. But then there not once has been the mention of his patriarch in the family scene.
Dating Girlfriend?
The Home and Away Hottie, standing tall to a height of 6 feet and 2 inches (1.88 meters), has so far amassed a million fans and followers. Most of them being young ladies, enticed by his charming personality and best-looking genes that his parents rubbed upon him.
Nonetheless, his heart throbbed for someone else, his long haul girlfriend, Amy Ruffle, when they were still an item.
Lincoln dated the Mako Mermaids actress-model reportedly for over five years. Throughout the relationship timeline, they really seemed enticed to one another. The couple was all smiles when they appeared at the Equalizer film premiere in Sydney way back in 2014.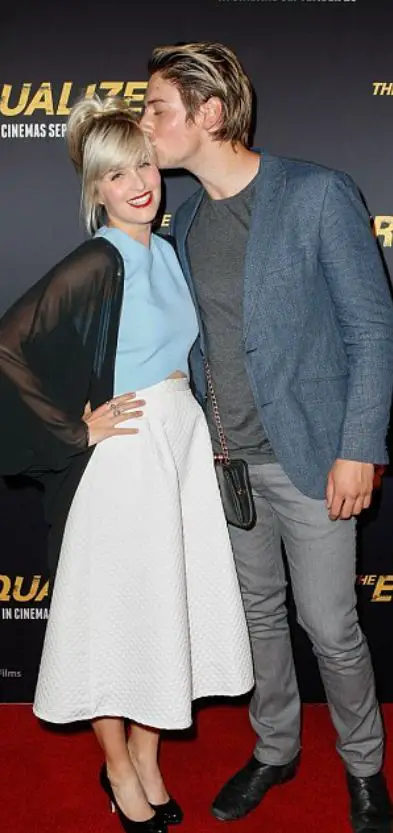 Lincoln Younes attends the Equalizer film premiere in Sydney with his girlfriend, Amy Ruffle way back in 2014 (Photo: dailymail.co.uk)
The sweet display of affection and their so on-point chemistry was even captured in the media frame. The remainder would forever be there, even today, years after they chose to bring an end to their dating life. The reason behind their split though stays unheard of.
Keep Reading: Adam Huber Married, Family, Net Worth
While today, Lincoln is seemingly a bachelor and is yet to get married to the love of his life. And there is always a television romance to admire him in, up until he comes with his real-life drama.