American Journalist Laurie Dhue well-known for being the founder, CEO, and president of a training and consulting media called Laurie Dhue Media who had to go through a struggle because of addiction.
If you are curious to know the whole story, personal as well as professional life, follow us in the preface below!
Bio And Professional Career Of Laurie Dhue
American TV Journalist popularly known as Laurie Dhue was born on 10 February 1969, in Chapel Hill, North Carolina, USA. She grew up with her family mother, Georgia, and father, Bob Dhue, he was a former vice president of former vice president of wrestling operations for World Championship Wrestling.
Laure completed her graduation from the University of North Carolina at Chapel Hill from where she received a Bachelor of Arts degree in political science with a concentration in dramatic arts.
Before joining the Fox News Channel in 2000, Laurie worked at CNN from 1990-99, where she served as an anchor for weekend programs, such as CNN Saturday, CNN Sunday, World View, and The World Today.
In April 1999, she became associated with MSNBC as an anchor of News front. There she also hosted the Special Edition. She joined Fox News Channel in 2000 and worked there till 2008. Laurie is one of many women who settled suits with Fox News in sexual harassment claims against long-time anchor Bill O'Reilly and former president Roger Ailes, she is currently writing a book discussing her experience.
Later on 9 September 2013, she joined TheBlaze TV News as its evening anchor, where she worked for years and left on 17 of April 2015. Currently, she performs public speaking at conventions, conferences, corporate events, and special events.
Laurie has earned both fame and fortune over the years. However, her total net worth is not revealed by any source as of yet. She is an incredibly tall woman as her height is 5 feet 11 inches which fall around 1.80 meters.
Personal Life Behind The Curtains
Talking about her personal life, Laurie married her long-time boyfriend, Thomas Colquitt in a secret wedding ceremony. However, the marital relationship did not last long as they got divorced.
Although there is no actual reason as to why they separated, there are no details of whether she had children with her ex-partner. But at present, she is engaged to Joe Schrank.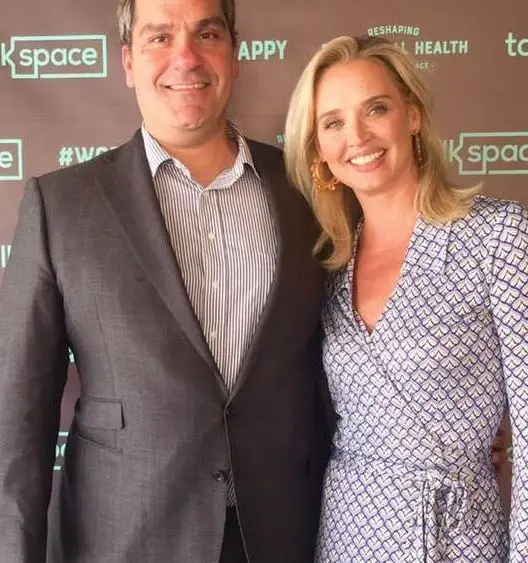 Joe Schrank with Joe Schrank on 28 April 2017 (Photo Credit: Joe Schrank's Facebook)
There's a trend of speculating one as a gay or lesbian in the absence of their news of love life but since the rumors are not confirmed by Dhue, you cannot casually question the sexuality of the people. 
Being a successful professional news executive, no one knew her battle with alcoholism. She had struggled with severe addiction for fifteen years. Finally, after winning over her bad habit, she finally admitted that she got her psychological health back after very long time. 
As per now, Dhue started to make open appearances by attending public conventions, public conferences, business events and other particular events.