Larry Romano is an American actor who has spent more than two and a half-decade in the entertainment industry. He is popularly recognized for his portrayal in the sitcom The King of Queens.
Along with the fame and fortune from his successful career in performing arts, he has also received several awards, including Screen Actors Guild card for his role on Ridley's Scott's Black Rain.
Larry Romano's Bio: Age
Larry Romano was born on 31st July 1963 in Mount Vernon, New York, with the birthname Lawrence John Romano.
Read More About Another Actor: Is Daniel Henney Married? His Wife, Dating Life, Parents
He graduated from the Tappan Zee High School in Orangeburg, New York. In addition to that, he gained formal training in performing arts at Weist-Barron, HB Studios, and the prestigious Lee Strasberg Theatre Institute, which were all located in New York City. While being there, he also studied screenwriting and playwright with Ron Peterson, Stuart Brown, and Richard Walter.  
Family
Larry is the cousin of actor and singer, Carmine Giovinazzo, who is known for movies, Black Hawk Down, Red Zone, and TV series like CSI: NY and Graceland.  
He is not related to comedian/actor Ray Romano; however, people sometimes get confused as to if the two are brothers.
Early Life & Career 
Before coming to the acting world, Larry Romano did various odd jobs. He worked for his dad at father's garment factory, as a delivery boy at Pat's Pizzeria, as a gypsy cab driver, as a telephone salesman, and as a bicycle messenger. Additionally, he also worked as a house painter, house builder, and bartender. 
Then, he began to step in the entertainment industry by performing in several Off-Broadway plays and shows in New York, including the role of Joe Zeppi on Ridley's Scott's Black Rain. In the late 1980s, Larry began to appear in movies like On-Time playing the role of Fed Ex Driver in 1987 and as Howling Punk in She's Black in 1989. Also, he portrayed the character of a young prisoner nicknamed First Base in the film Lock Up starring alongside Sylvester Stallone. 
From 1993 to 1994, Larry starred in five episodes of the popular TV series, NYPD Blue, playing the recurring savory character, Richie Catina. In 1996, he appeared in a major motion picture, City Hall portraying a gangster named Tino Zapatti of the Zappati family. In the movie, he can be seen as involved in a shootout with N.Y. City Police, where he was killed.
Know About: Tommy Lee's Son Brandon Thomas Lee Net Worth, Girlfriend, Gay
A year later, he performed a brief role as Tommy Ruggiero, who was portrayed as the son of actor Al Pacino's character in the movie Donnie Brasco. Then from 1998 to 2001, he performed the iconic role of Richie Lannucci in 32 episodes of the TV series, The King Of Queens.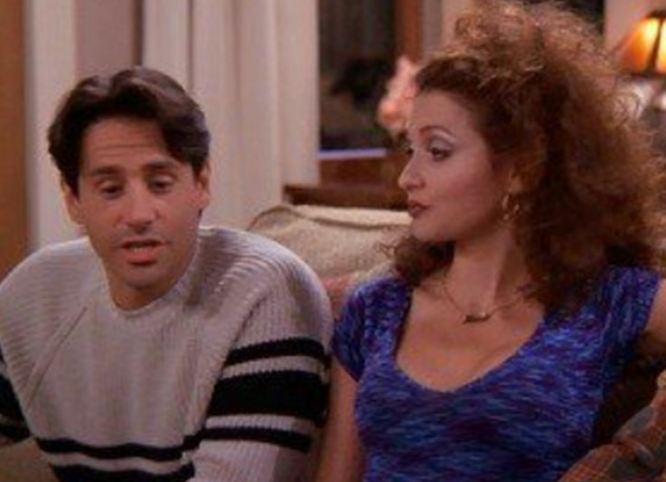 Larry Romano with Michele Maika in The King Of Queens (Photo: )
Likewise, in 2001, Larry acted in the television sit-com, Kristin playing the character of Aldo Bonnadonna. In 2006, he played the role of Louie Messer in the TV series, CSI: NY. Furthermore, his other acting credits include Baggage (2008), The Ascent (2010), Karma(2014), and The Irishman (2019).
Married Status
Larry Romano has not spoken anything regarding his love life, so; it is still a mystery as to if he is married or not.