Karamo Brown is an American television host, reality television personality, author as well as an activist. Currently, he serves as the culture expert in Netflix's Queer Eye. Initially released in February 2018, Queer Eye is a reboot of the Bravo series of the same name. It features new "Fab Five"– food and wine expert, Antoni Porowski, fashion expert, Tan France, Bobby Berk, a design expert, and Jonathan Van Ness, a grooming expert, including Karamo.
Besides, Karamo is also known for his work with various journalistic platforms, including CNN, HLN, and Huffington Post.
Queer Eye's Karamo Brown's Age, Education
Karamo Brown was born on the 2nd of November 1980 in Houston, Texas.
More Of TV Host: P. Allen Smith Bio: From Married, Gay, Family, Net Worth To Garden
He received a degree in Business Administration from Florida A&M University.
Net Worth
According to Celebrity Net Worth, he enjoys a net worth of $3 million.
Coming Out Gay, Family
Karamo Brown came out as proud, "gay man" at sixteen. Doing so severely affected his relationship with his father for ten long years.
Growing up, Karamo was his father's "champion son." But then when between the age of 17 and 18, he confessed to being gay to his father, and the truth tore the family apart until after ten years when his father reached out to reconcile.
During 2019's episode of Dancing with the Stars, Karamo invited his Jamaican father to visit him in California so that his father could witness him perform a contemporary emotional number.
Karamo Brown, Married To Husband?
Karamo Brown told The Knot that he would be marrying his fiancé, Ian Jordan, who worked as a second assistant director on a number of kid's TV shows, on the 10th of October 2020. His words:
It's 10/10/20, and we're doing it that far off because hopefully we have more seasons of Queer Eye, so… you know, we've got to plan around that.
The two got engaged on 9th May 2018, after Karamo threw a surprise 40th birthday party for Ian at SBE Hyde Sunset in West Hollywood.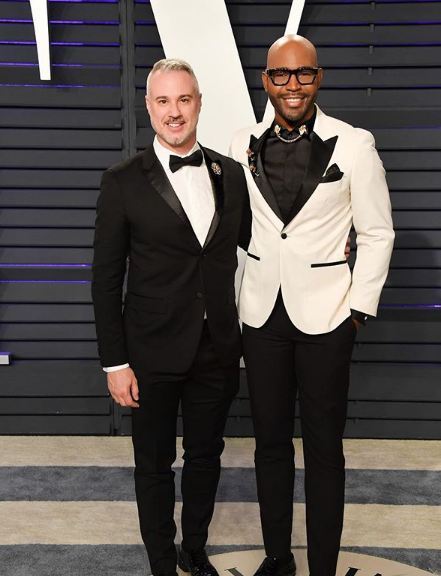 Karamo Brown and his fiancé, Ian Jordan at the Vanity Fair Oscar party on 25th October 2019 (Photo: Karamo Brown's Instagram)
Karamo, with the help of his sons, asked Ian to marry him, and he obviously gave a "YESSSS!".
Karamo went down on one knee with a David Yurman band, and he got himself the same rings; plus, they had the matching bands engraved.
"Ian is my today, tomorrow, and everything!"– Karamo told E! News as he gave them the scoops to their engagement.
Spoke On Fatherhood
Karamo Brown's life revolves around his kids– Jason and Chris (Jason's half brother).
Fatherhood came to Karamo, unexpectedly, after he received the papers demanding that he pay for the child support of his 10-year-old son, Jason. It was his last girlfriend in high school who came to his doorstep, years later, with the news.
When Karamo was 15, and his girlfriend became pregnant with his child but had kept the pregnancy a secret and moved away.
Get To Know Other Reality TV Personality: Chris Pfaff Bio: From Wife, Girlfriend To Net Worth | All Revealed
A decade later, in 2007, Karamo ended up tracking down his son, Jason, and also adopted Christian in 2010 in order to keep the siblings together.
Further, since 2011, the father-son trio started living in Los Angeles.
Quick Facts On Karamo Brown
During April 2019, he showed up in an episode of Steve Harvey's talk show with his mother.
By then, his mother had "bad relationship" with his father, and thus his mother was single