Kaitlyn Pratt is a news anchor and reporter for the channel, Fox 25.
The energetic and highly experienced media personality developed an inexplicable passion for content writing and storytelling. She was meant to become a part of the broadcasting industry and make a living out of conveying breaking news to several households at a time.
Kaitlyn Pratt's Bio: Birthday, Family & Education
Kaitlyn celebrates her birthday every year amongst her friends and family on 19 May. Kaitlyn grew up alongside her brother and sister. For Kaitlyn, her siblings have always been the big support in her life.
She rarely shares her family moments on social media. But whenever she does, she makes sure to beautify the moment with even more beautiful captions, filled with love and gratitude. She refers to her mother and sister as "her rocks."
However, her father has not been mentioned in any of her life stories as of yet. Same is the case in regards to the specifics on her ethnicity and early life. The residents of Atlanta, Georgia, has also not spoken on her nationality.
Taking about her education, she majored in English with a specialization in Political Science from Providence College. 
Peek Into The Life Of: Fox 25's Elizabeth Hopkins Age, Wedding, Married, Engaged, Husband & Family Status
There is so much to her besides her career in broadcasting. The beautiful TV presenter always looks the same in her average height and radiant complexion.
She has a huge liking for her pets and despises people who make a big deal out of some one's age to the same extent. Instead of being judged on age, she appreciates it when people prioritize the experiences one has witnessed.
Kaitlyn's Married Life With Husband
Kaitlyn married the love of her life, Tim Andrews, after dating him for two years. Their first encounter happened to be virtual while goofing around on some tweets.
From Twitter, they moved onto Facebook, which led to a planned date and thus, into a beautiful romance.
Kaitlyn and her unconditional love for Savannah and the Davenport House Museum there was the only reason, she secretly tied the knot with her husband during the Valentines week in the year 2017.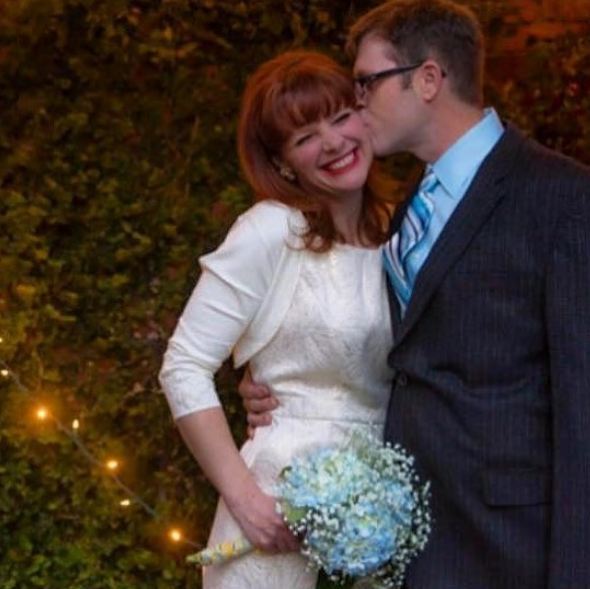 Kaitlyn Pratt and her husband Tim Andrews on their wedding day at Davenport House Museum in Savannah; shared on Instagram on 4 December 2018 (Photo: Kaitlyn Pratt's Instagram)
However, the Savannah press got to witness and cover them exchanging the vows since it was held at the Davenport House Museum, which as per a ritual holds weddings each year on 14 February.
Andrew, the News AM and 95.5 FM WSB host, shares the same line of the profession with her wife. He and Kaitlyn are hoping to grow their family.
But due to some unexplained reasons, they are yet to experience some good news. Nonetheless, they love and support each other, exploring their married life with contentment. 
Kaitlyn Pratt's Fox 25 Career & Salary
Before working in front of the camera, Kaitlyn participated in television journalism as a writer and field producer at WHDH in Boston. 
Then, she made a jump into working for the camera. She worked in the few small towns like Macon and Savanah and eventually moved onto the big city and joined the team of FOX 5.
More From Fox 25: Shiri Spear Bio: Age, Birthday, Married Life With Husband To Height, Salary, Fox 25
On May 2018, the FOX 5 Atlanta team celebrated her ten years of excellence at the channel.
For her long-hauls in the field, she must get paid with a deserving salary, bonus, and also a great many incentives.