People get prominence and reputation engaging in different fields. An American reporter, Josh Gerstein, gained his working as a reporter and advisor on various political and legal issues. 
During his long-time career, he is credited with covering several nationally significant stories.
Most notable of them were the Obama administration, the legal saga of Sami Al-Arian over his ties to Palestinian Islamic jihad, and many more from White House and presidents of different times.     
Josh Gerstein' Bio & Wikipedia
Josh Gerstein was wished a happy birthday on 20th June 2019. So probably the 49-year old Josh celebrated his birthday on 20th June of every year.
Josh's father, Dr. Joseph Gerstein is a retired internist who used to work as a medical director for the Tufts Health Plan, a non-profit health organization located in Waltham, Massachusetts.
His mother, Barbara Gerstein, is a registered nurse. Later, both of his parents also worked for Smart Recovery, a non-profit drug, and alcohol program. 
Worth Reading: Judith Ralston Age, Birthday, Married, Husband, Lesbian
Apart from his parents, ' Josh has not disclosed any details about his early life and other family members.
Talking about his education, Josh graduated magna cum laude with a bachelor's degree in government from Harvard University.
Journey To POLITICO's Reporter
Josh began his professional career working in CNN's investigative unit, where he covered terrorism stories, including the 1993 bombing of the World Trade Center.
After that, he worked for ABC News from 1995 to 2003 as a producer and correspondent covering the White House and several issues, including the terrorist attacks of 11th September 2001.
He also served the ABC for one year as a Beijing correspondent from 2002 to 2003, reporting on various political issues. 
From 2003 to 2008, Josh worked as a national reporter for The New York Sun, where he covered national politics, legal stories, and terrorism trials.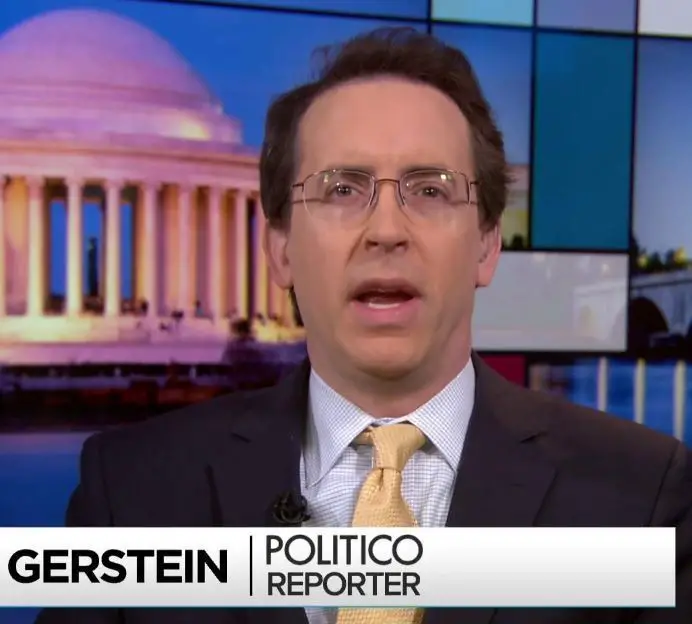 Josh Gerstein reporting on POLITICO on 26th October 2018 (Source: MSNBC)
Finally, in 2009, he joined the POLITICO just before President Barack Obama's inauguration as a Senior White House Reporter.
He is still serving POLITICO recently being promoted as Senior Legal Affairs Contributor in 2018.
During his decade long service there, he has been praised for covering several significant political issues.
Married Status & Wife Details
Josh Gerstein is happily married to June Shih. The couple shared their vows on 2nd August 2003. 
His wife, 47-year old as of 2019, is a daughter of Catherine S. Shih and Dr. Teh-Ching Shih.
Currently, she is working as the Director of University Communications at New York University Shanghai.
Additionally, she is also a writer and lawyer with more than twenty years of experience in public communications and speechwriting.
Previously, she worked as the chief speechwriter for Mrs. Clinton's senatorial campaign.
Exclusively: Kendis Gibson Birthday, Married, Wife, Gay, Partner/Girlfriend
Though the couple has not revealed much information about their love life and children, Josh tweeted on 5th May 2016, mentioning his then ten-year-old daughter.