Brooklyn-based comedian Jo Firestone fascinates the people with her hilarious comedy stints. As of now, she is a writer for The Tonight Show Starring Jimmy Fallon and The Special Without Brett Davis. 
Jo has also marked her name as an actress in the entertainment industry. She has appeared in numerous TV programs such as Search Party, The Jim Gaffigan Show, Broad City, The Tonight Show Starring Jimmy Fallon, CollegeHumor Originals, Boy Band, The Outs, Night Train with Wyatt Cenac, High Maintenance, Jon Glaser Loves Gear and many more. 
Furthermore, Jo worked as a consulting producer on 21 episodes of The Chris Gethard Show as well as performing in three episodes of the series. 
Another Comedian You May Know: Desus Nice Net Worth, Sister, Wife
During her career, she has worked in various field showcasing her talent. People also widely know her as the host of the program Dr. Gameshow, stand-up comedian of Comedy Central, stand-up gigs in cellar clubs. 
With all struggle and hard work, Jo has successfully reached the height of success, making her professionally as well as financially secure. 
Jo Firestone's Bio - Age, Family
Born in 1987, Jo Firestone celebrates her birthday on 8 December every year. While talking about her family, her father Fred Firestone - a businessman from Clayton - and mother Marilyn Firestone brought her up in St. Louis, Missouri, United States. 
Jo has also created the game, Punderdome: A Card Game for Pun Lovers, with her father. Every month in Brooklyn Fred accompanies her to co-host a three-hour show. They earn the stage with their father-daughter duo attracting sellout crowds. 
However, Jo has not disclosed much about her family background; thus, her ethnicity is not known. But Jo flaunts her family pictures on her Instagram account.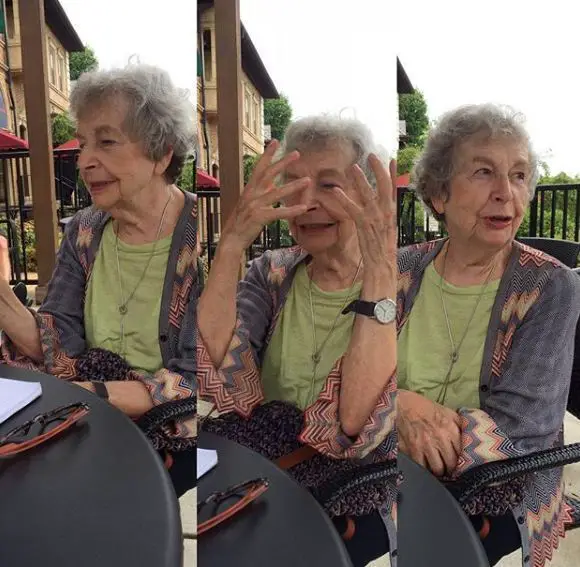 Jo Firestone posts a picture of her grandmother on 14 July 2017 (Photo: Jo Firestone's Instagram)
Nevertheless, the 5 feet (1.52 meters) tall, comedian graduated from Wesleyan University with a degree in theater.
Jo Engaged, Married 
Jo is happily engaged to a mystery man has not yet introduced her fiance to the world. Moreover, before opening about her love life, no one knew much about her dating life with her boyfriend. 
When Jo made her appearance in The Tonight Show starring Jimmy Fallon, she flaunted her engagement ring and joyously announced her engagement. 
However, as of now, Jo's Twitter account has been disabled due to unknown reason. But, she often mentioned her dating fantasies via several tweets. Jo even stated once that she wanted her next boyfriend to be named Jimmy John Sandwiches. 
Enjoy Reading: Jaboukie Young-White Bio, Brother, Parents, Gay
After the announcement of Jo being engaged, fans' expectations rise as they love to see the comedian getting married and turning her anonymous fiance into a full-time husband.