Jennifer Lahmers embarked on a new job as a correspondent and co-host for the revamped Extra entertainment show that launched on the 9th of September 2019.
As a part of her new assignment, she goes to and fro around the Extra studio space and newsroom, tracking down the stories with her co-host, Billy Bush.
More so, she is also interviewing the celebrity guests visiting the studio; last but not least, she covers red carpet stories at all the major award shows and several movie premieres.
Her Time At Fox
The date, 9th of August 2019, marked Jennifer's last day of work at Fox 5 WNYW in New York City. Since 2014, she had been working as the most-loved co-host of the "Good Day Wake Up" morning show.
She bid a proper farewell to her audiences and work-family at the station as she stepped on a new career venture. She said that the team she worked with were the best people she ever met in her career in television.
Jennifer's Short Bio: Age, Height & Family
Jennifer was born on the 19th of February 1984 in Dover, Ohio. 
She stands at the height of 6 feet and 3 inches (1.91 meters). 
Her parents are named Cathy Scolati Lahmers and Pat Lahmers: her best friends and motivating force to succeed in life.
She is the only child of her parents.
All her life, they have been nothing but unwavering support. She said they are the only reason she was able to accomplish so much "despite the cards stacked against" her.
Husband?
Amidst late 2012 and early 2013, Jennifer wrote several "husband" contexed tweets. One said that she beat her husband on some joke while the next was about kissing her husband.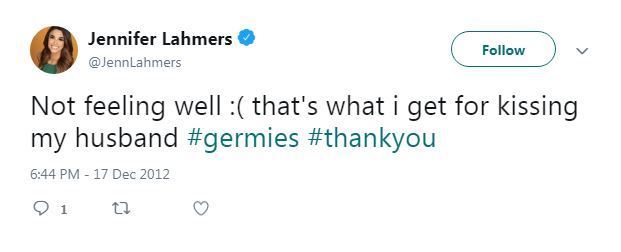 Jennifer tweets about "husband" on 17 December 2012 (Photo: Jennifer Lahmers' Twitter)
Although, these are the only times she mentioned the word "husband." In fact, even if she was married, there is nothing to hint on the matter. 
Still Dating Doctor Mike?
Jennifer introduced Mikhail Varshavski, an internet celebrity, also known as Doctor Mike, as her boyfriend for the first time in late November 2016.
From writing lovey-dovey captions for one another, sharing the pictures of them spending time together to attending a number of red carpet events: they were in an open relationship. 
But then the last time they were seen together was on the 27th of August 2017 as they enjoyed the boxing night at T-Mobile Arena.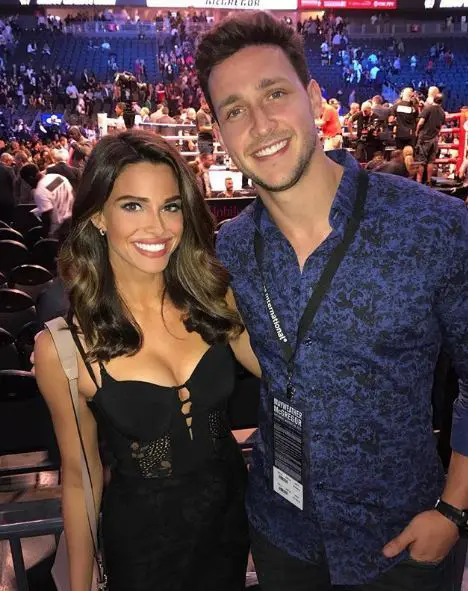 Jennifer Lahmers and Doctor Mike at T-Mobile Arena on 27 August 2017 (Photo: Jennifer Lahmers' Instagram)
Since then, there have been no updates whatsoever.
Neither Jennifer nor her "People's The Sexiest Doctor Alive" boyfriend were heard of speaking on what became of their romance.