Jalen Suggs is an American dual-sport athlete, who was ranked 12th amongst the basketball players and 10th amongst the football quarterback recruits by 247Sports in the country in 2019.
Over the years, he has participated in several international tournaments as a player of USA Basketball. As a result of that, he has won three gold medals with USA Basketball—he won the gold during the 2019 FIBA U19 World Cup, 2018 FIBA U17 World Cup, and 2017 FIBA Americas U16 Championship.
Besides that, Jalen was also declared as the 2019's basketball Player of Year by Pioneer Press East Metro.
Wiki: Age, Height
Jalen Suggs was born on 3 June 2001 in St. Paul, Minnesota. He stands at a height of 6 feet 4 inches (1.95 meters). His nickname is J-Sizzle.
The talented basketball player currently attends Minnehaha Academy for his high school education—he is graduating from high school in 2020.
Family
Jalen Suggs is the son of Larry Suggs and Molly Manley. He has two younger sisters: Jennica and Jaelle.
Interesting: Phil Simms' Son Matt Simms Interesting Facts: Education, Salary & More
Jalen grew up around his family—most of the member of his family is connected to the basketball sport or are athletes. His father, Larry, played basketball for Woodbury and in junior college. Likewise, his cousins (D'Marr Suggs, Dion Suggs-Young, and Renard Suggs) played basketball in college. In contrast, his other cousin, Terrell Suggs, played football for the Baltimore Ravens as a linebacker at Arizona State University. 
Besides sports, Jalen's family members have also achieved feats in other sectors too—his great-grandfather, great-uncle, and cousin held positions of USMC, USM, and USAF respectively in the U.S Armed Forces.
What Is Jalen Suggs Doing Now?
Jalen Suggs is currently focusing on his basketball career—hence, he, in January 2020, also announced his recruitment with the Gonzaga school, leaving his current school of Minnesota. He announced his commitment to Gonzaga on Friday, 3 January 2020 during the halftime of Sierra Canyon's (California) game against The Patrick School (New Jersey) on ESPN2's broadcast.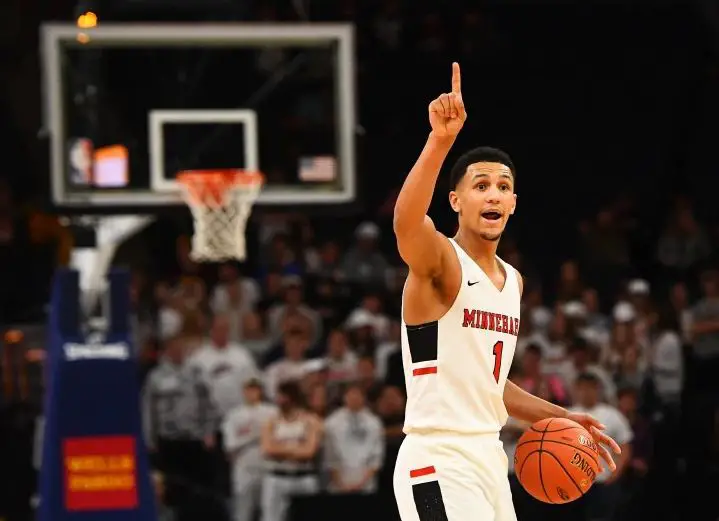 Jalen Suggs during a basketball game on 22 March 2019 (Photo: John Autey / Pioneer Press)
While announcing his recruitment, he clarified why he chose Gonzaga over other options like Florida State, Minnesota, Florida, and Lowa State—he said, 
"To me, Mark Few is the best coach in the country." "He has that winning mentality just like I do. He's a great competitor, and what he does with his players and his point guards, I believe going into that system I can truly grow and develop as a player."
He also said that he would be looking forward to a professional contract soon and present himself. Until then, he wishes to sharpen his game by playing for Gonzaga.
Another Basketball Player: Who Is Openly Gay Jason Collins Partner At Age 40? Brother, Salary
Furthermore, Jalen, now, becomes first to commit his recruitment on a national TV broadcast—that being ESPN2—and the highest-ranked recruit in school history.