Ignacio Serricchio is an Argentine-born American actor, who is best known for playing the recurring role of police detective Alex Chavez on the CBS daytime soap The Young and the Restless.
He is also a public influencer—he is an ambassador of Active Minds. Active Minds is a group of dedicated actors, athletes, and social media influencers who raise their voices regarding mental health. 
Bio Plus Birthday
Ignacio Serricchio originally hails from Lanus Este, Buenos Aires, Argentina. He was born on 19 April 1982.
His family came from a different nation. They had to travel a lot, looking for a better place to live in. So, when Ignacio was eleven years old, his family moved to Mexico City, where he completed his high school. His family then moved to New York, where he enrolled at Syracuse University. There he made it to the theatre program.
Another Non-American Actor: Devon Murray Bio: From Girlfriend, Dating, Height To Movies
During his second year in the university, the family once again moved to Los Angeles, where Ignacio was transferred to Loyola Marymount University. After that, during his senior year, he got his first breakout as he was cast on ABC's General Hospital. 
Movies & TV Shows
Besides portraying the role of Diego Alcazar at ABC's General Hospital, he has worked in a few more acting projects, which include movies like; Rodney (2005), House (2005), Lincoln Heights (2007), and Wildfire (2007).
Likewise, his television credits include; Ghost Whisperer (2007-2008), Privileged (2008-2009), Tyler Perry's House of Payne (2009), The Finder (2012), Witches of East (2014) and a few more. 
Height 
He maintains a perfect body structure with a height of 5 feet 9 inches (1.75 meters).
Is Ignacio Serricchio Married?
Ignacio was married to American actress Gabrielle Stone. The couple was married only for two years. 
The Lost in Space star and his wife moved on from their marriage when his wife found out about him having an extramarital affair.
Ignacio was in an affair with a 19-year-old for six months. 
After the divorce was finalized, his wife left New York and traveled seven countries for a whole month. 
Ignacio and his wife have deleted the related information about their relationship from their respective social media handles. 
On-Screen Gay, Wedding Ringer
As an actor, Ignacio has challenged his acting skills by portraying different characters.
Amongst his popular characters, he is well-unknow for playing the gay role of Edmundo in the movie Wedding Ringer.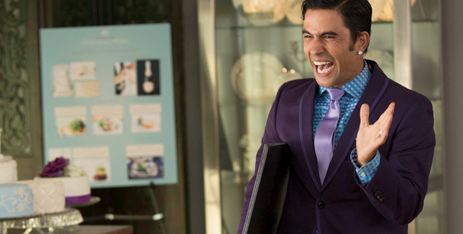 Ignacio Serrichio plays wedding planner Edmundo in the comedy "The Wedding Ringe (Photo:cinesnob.net)
Edmundo is an impatient wedding planner who is, in fact, a tattooed former gangster. 
His identity is smartly kept intact, although he reveals himself as a tough guy posing as a mincing fop. 
Things To Know About Ignacio Serricchio
Ignacio is a tattoo lover. So, he has inked his right arm with a script. 
He can speak four languages.
Ignacio is a certified rescue diver.
He is also involved in volunteering work. He volunteers at the Wildlife Waystation and Children's Hospital in Los Angeles.
When away from the camera, Ignacio practices Kung Fu.
He was the son-in-law of actors Christopher and Dee Wallace.