Greg Fishel is the first certified American television meteorologist and Emmy-winning weather forecaster. Currently, he has been working as the Senior Atmospheric Scientist for the company named Priogen Energy since October 2019. 
He served as the Chief Meteorologist for Capitol Broadcasting Company (WRAL-TV ) for almost 38 years (from June 1981 to February 2019).
Bio: Age, Education
Greg Fishel was born on 19 February 1957 in Pennsylvania, United States. He completed his Bachelor of Science (BS) degree from Penn State University in Meteorology. He studied there from 1975 to 1979.
Divorce With Wife!
Greg Fishel was in a relationship with his long-time wife, Kathy Englehardt.
The couple, who first met in 1985, got married in the year 1989. Unfortunately, after more than 30 years of marriage, they got divorced in January 2020, confirmed on his Facebook bio.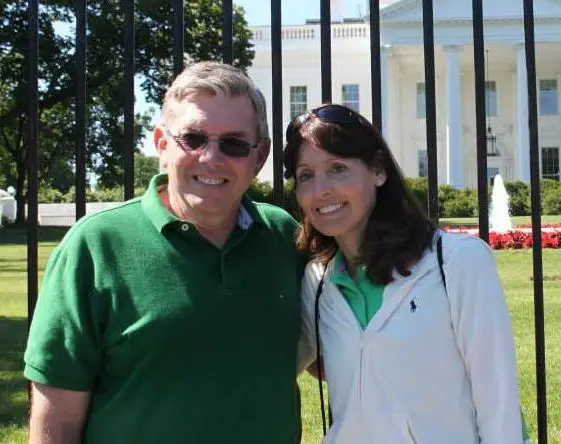 Greg Fishel and his former wife Kathy Englehardt on 1 September 2013 (Photo: Greg Fishel's Facebook)
Together, Grey and his former wife, Kathy Englehardt, have two sons: Brandon Fishel and Austin Fishel.
Greg Fishel's Exclusive Career Details
Greg Fishel started his career in broadcast meteorology at WMDT in Salisbury, Maryland, in March 1980. There, he served until June 1981, for one year and four months, and moved to the WRAL-TV of Raleigh-Durham, North Carolina, Area-based Capitol Broadcasting Company in June 1981.
For his broadcasting excellence, he was even honored with the American Meteorological Society award is 1985, followed by the promotion as the station's (WRAL-TV's) chief meteorologist, replacing Bob DeBardelaben, in 1989. He is also the recipient of the 2000's Emmy Award of the National Academy of Television Arts and Science for hurricane special from the Midsouth Region.
Another Famous Meteorologist: Bonnie Schneider Wiki, Age, Married, Husband and Salary
Finally, after almost 38 years of service, he resigned from his position at the WRAL-TV of Capitol Broadcasting Company in February 2019. The reason for his departure was cited as a "personnel matter" by the company. He then joined Priogen Energy as a senior atmospheric scientist.
Interesting Facts About Greg Fishel 
Greg Fishel is a native of Lancaster, Pennsylvania. Later, he lived and worked in Raleigh, North Carolina. 
Due to bad health conditions, he had taken a medical leave of about a month from early February to March 22 in 2018. After his arrival, he had continued broadcasting weather at the WRAL-TV on the 5 p.m. and 6 p.m. newscasts, replacing his substitute meteorologist Mike Maze.
In 2017, he posted that he was quitting the golf, as while playing the game with his son, the game turned too competitive and usually resulted in him returning home angry. He also said that he had started to play golf for enjoyment, and not for getting angry.