Starting her work as a production assistant for Stossel talk and doubling as John Stossel's personal assistant at Fox News, Emma DiGiovine was later redesignated to work as an associate producer for the Watters' World Show.
Emma achieved useful feedback while working on the program. She even covered Donald Trump's inauguration and worked as a field producer for Super Bowl among many other things.
With her contributions to the field, Emma must have garnered a hefty net worth from her salary to date. While the actual figures lay beneath the shadow, Emma undoubtedly earns more than the average salary of a Production Assistant that is estimated at $37K. 
Emma DiGiovine Relationship With Jesse Watters As Of 2019
Emma DiGiovine, age 27, made it to headlines when she was caught in a scandal in late 2017. After speculations by various sources, Emma eventually revealed that she was dating her colleague, Jesse Watters; both she and her boyfriend decided to come clean about their affair. 
Presumably single at the time, Emma was dating Jesse who was still legally married to his wife, Noelle. After Jesse's wife Noelle caught on to her husband's infidelity, she immediately filed for divorce.
Jesse has two daughters with his wife, Noelle, and had been living with his family in Manhasset, New York at the time.
Get To Know About: Gillian Turner Age, Married, Engaged, Husband, Boyfriend, Dating, Salary, Net Worth, Family
Moreover, Emma and Jesse reported to the Human Resource Chief of Fox News, stating about their romantic relationship. Then, the authorities in the top management of the Fox News met the couple, and Emma was moved to work for another program, The Ingraham Angle.
For a while after going public, the couple kept their relationship low profile and out of the limelight until Jesse Watters legally divorced from his wife, Noelle. Their divorce was finalized on March 2019.
And soon after the divorce was finalized, Emma and Jesse were spotted together attending various events.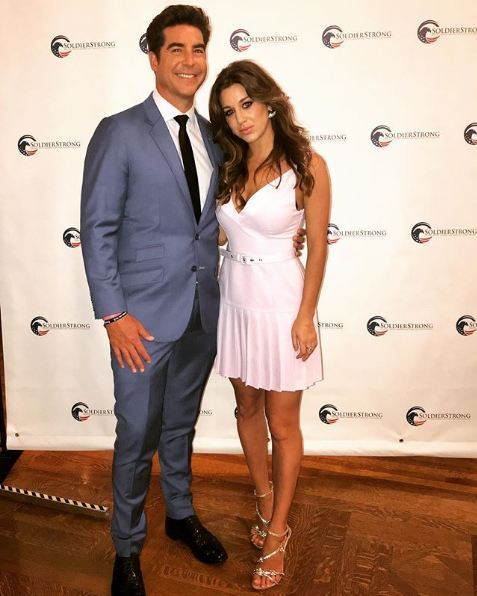 Emma DiGiovine with her boyfriend, Jesse Watters, on 31 May 2019 (Photo: Emma DiGiovine's Instagram)
The couple had been in a private relationship since the scandal broke out, but now they are slowly opening up about their love for each other, as they don't seem hesitant spending time together publicly. 
Moreover, the couple seems to be maintaining a lovely bond with each other's family as well. For instance, Emma was openly flaunting a picture of her boyfriend with her grandparents on Instagram on 1 April 2019.
Emma Finally Gets To Flaunt Her Engagement Ring 
After a while of getting referred to as her man's "mistress", people might just get over it now, for Emma announced the big news about Jesse asking for her hand in marriage. As of the very moment of Emma's life, she would rather be called upon as the Fox-TV personality's fiance. And with time, maybe even his wife.
Emma DiGiovine flaunting engagement ring with her fiance on, Jesse Walters on 25 August 2019 (Photo: Emma DiGiovine's Instagram)
"My best friend asked me to marry him. I love you forever"- captioned Emma with a series of dreamy appearing pictures of them together. From what it looks like Jesse surprised his girl on a beautiful beach, surrounded by the soothing soothing waves of the blue ocean.
Besides family and friends shouting out to their new development in life, even Donald Trump, the President of the USA had something to say to them.
Jesse, known for his "fan-boy flattering" over  Donald Trump, must have been all smiles, over the famous tweet- "Jesse & Emma, Great News. Congratulations!!!!!". Well, he just might get similar wishes from President if he ever walks down the aisle.
Emma DiGiovine Bio: Age, Education
Born in New Jersey in 1992, Emma DiGiovine celebrates her birthday on 1 June every year. Embracing Caucasian ethnicity, she has an average height of 5 feet 5 inches (1.67 meters).
Learn More: Lisa Boothe Married, Husband, Wedding, Parents, Boyfriend, Dating, Height, Measurements, Salary, Net Worth
When it comes to her family background, there is not much information about her parents and siblings except that she has a brother who got engaged in 2018.
Her parents raised Emma in Cranford along with her brother. She was actively involved in different sports as a child from a young age and was even enrolled in dancing classes while she was a student at the Academy of Saint Elizabeth Convent Station.
Emma completed her education as a student of Journalism from Fairfield University. While she was studying Journalism, Emma was a member of the Fairfield University Dance Ensemble. 
And before graduating in 2014, during her time there, Emma was also the director of marketing at the school's student association.