Implausible as it may sound, Eileen Whelan has been a weather enthusiast since the age of six. Her undying passion for weather continued to flourish as the years went by, ultimately even turning into a career.
She would look for the traces of storms "live" from outside her house and pin the paper on the walls as she pretended giving weather forecast like she saw it done on the television.
And in the years to come, she graduated Magna Cum Laude from Salisbury University with a double major in Earth & Atmospheric Science and Mass Media.
It was only fair that she followed a career in meteorology.
WJLA's, Eileen Whelan's Wiki: Age / Birthday, Family Details
It was also her father who knowingly or unknowingly prompted Eileen to become a weather person.
Her father is still a commercial roofing contractor: his business depends intemperately on daily weather forecasts.
Eileen still remembers watching weather reports in the mornings before she left for school.
Keep Reading: WJLA Michelle Marsh Bio, Age, Husband
Eileen carefully watched the radar and updated her father, so he knew which jobs he could complete outdoors.
Born on the 12th of June, 32 years ago, Eileen looks much younger than the real numbers to her age.
And, there is this good-looking height and a forever smiling complexion that adds up to her beauty.
From what it looks like, she and her sister, Maureen Whelan, got it from their mother. Together, they resemble a lot to one another.
Meanwhile, more to Eileen's sibling is her brother, with whom she still shares a great bonding.
Husband / Wedding Details
Eileen is happy to be married for four wonderful years now.
On the 9th of November 2019, she celebrated the fourth year of "I dos" with her husband, Derek Bliss, who, according to his Linkedin bio, is a director of Goalkeeping at Bethesda Soccer Club based in Washington, District Of Columbia.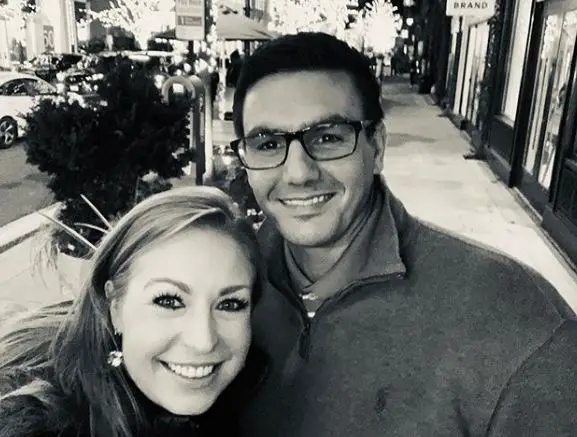 Eileen Whelan wishes her husband, Derek Bliss on their wedding anniversary on 9 November 2019 (Photo: Eileen Whelan's Instagram)
The couple got engaged back on 12 October 2014, followed by a wedding a year later. 
Besides, there is not much to unfold about the kind of ceremony that underwent on their special day.
Get To Know: Veronica Johnson [WJLA] Wiki: Age, Married Life With Husband
Eileen is not much sharing when it comes to her personal life. She also does not allow her demanding job to take away all the fun in life.
When she is not preparing for her reports, she fancies spending time with her family and friends, reading a good book by the beach, exercising, learning new things about the weather, and of course, meeting new people.
Salary
Currently a meteorologist for ABC7 and NewsChannel8 owned by the WJLA, she is yet to reveal the figures to her paycheques.
However, the storm chaser meteorologist on Good Morning Washington is sure expected to make a generous sum for all the obvious attempts she puts into her reportings.
Note: As per estimated by the payscale.com, the average salary for a meteorologist is $55K.