Dorothy Lucey is an American actress and Radio/TV host best known for hosting the hit TV shows like Good Day Live, Hollywood Squares, and Good Day L.A. 
As of now (January 2020), she is working as a podcaster.
Dorothy Lucey's Bio: Age & Birthday
Dorothy Lucey was born on 19 November 1958 in the USA. 
Actress: Is Emily Skinner Dating? Everything About Boyfriend & Family
She graduated from George Washington University in Washington, D.C., with a degree in Political Science.  
Married To Husband
Dorothy Lucey is married to David Goldstein. She and David tied the knot on 4th September 1993. Together, the couple is blessed with a son named Nash Goldstein.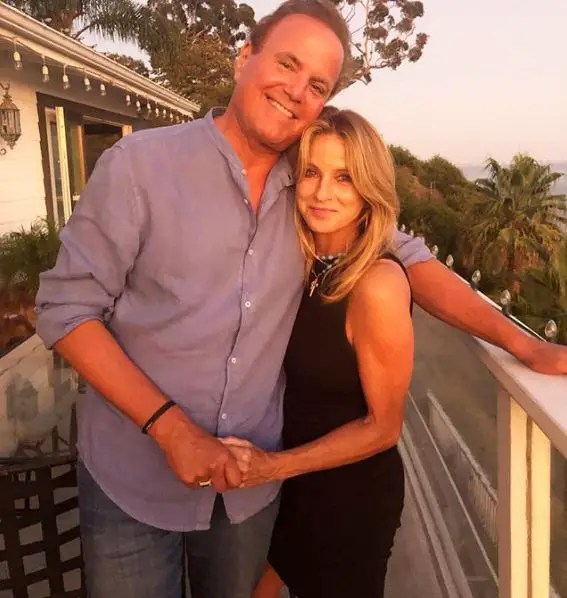 Dorothy Lucey with her husband David Goldstein on 22 September 2019 (Source: Dorothy Lucey's Instagram)
Professionally, her spouse, David Goldstein, is from New York City, New York. He graduated with a degree in Journalism and Broadcasting from the George Washington University. 
Currently, he works as an Investigative Reporter at CBS2 and KCAL9 in Los Angeles. He is also a founding member of KCAL's primetime newscast. 
Previously, he worked as a reporter at WCBS-TV in New York and has also worked as an investigative reporter in Miami. 
During his more than three-decades-long career, David has been awarded ten Emmy Awards and twenty Golden Mike Awards. He has also been honored with the 2015 Lifetime Achievement Award from Radio and Television News Association of Southern California and the 2013 Lifetime Achievement Award from the Los Angele Press Club. 
Career As A Host/Reporter
From 1985 to 1987, Dorothy Lucey worked as an N.Y. reporter for the TV series, Eyewitness. Then in 1991, she hosted the TV show Attitudes. After that from 1992 to 1994, she served as a hostess for the popular TV show, How'd They Do That? Later, she co-hosted the hit TV show, Good Day Live, from 2001 to 2004. In 2003, she worked as one of the panelists in the TV show, Hollywood Squares. 
Furthermore, in 2008, she joined a hit show, Good Day L.A, and co-hosted in 2012.
Career As An Actress
Alongside her career as a reporter, Dorothy Lucey has also been cast as a newscaster/host in several TV series and movies. In 1990, she made a guest appearance in the TV series, Prime Time Pets playing the role of a co-host. Then in 1996, she was cast as a news anchor in the movie My Fellow Americans. Likewise, in 2001, she performed a character with her original name in the film Behind Enemy Lines. Then in 2003, she was cast as a news anchor in the TV series, Nip/Tuck, and as Vicki in the TV show, Half & Half. 
In 2010, she was cast as a newscaster in the TV series, Big Time Rush, and also as a newscaster in the TV series, The Middle in 2013.