Donna Lombardi is a reality television star known for the VH1 TV's Black Ink Crew, a show revolving around the daily operations and crew drama that unfolds inside a tattoo shop.
She joined the production during season three in 2015 as an apprentice in the shop and eventually got promoted to the main cast following its fourth renewal. Most lately, the new spinoff of the show– Black Ink Crew: Compton, premiered in the year 2019. 
Donna Lombardi's Wiki: Age, Parents (Ethnicity)
Donna Lombardi was born on 20th September 1992 in Cleveland, Ohio. She has a twin sister named Britney Lombardi.
Britney has 57.7K followers on her Instagram, where she writes– "I love my twins with all my heart" in her bio section.
Look Into Other 'Black Ink Crew' Cast: Dutchess Lattimore Wiki, Boyfriend, Family, Net Worth
Donna constantly shares pictures of her nephews and other family members on social media.
She embraces a mixed ethnicity. "My mom is black, and my dad is white,"– she said during an interview with Submit PR back in September 2016.
Dating Status
Last heard on 29th January, Donna Lombardi and her boyfriend, Alex Robinson, one of Black Ink Crew cast members, invited their fans to "Meet + Greet + Party," which both of them hosted.
In the reality TV program, Alex goes by the name "Alex the Vagina Slayer."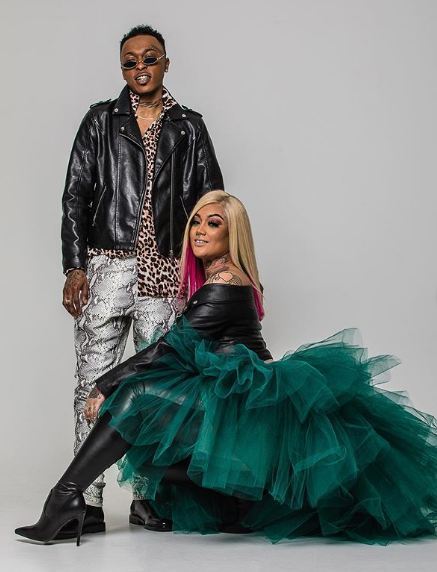 Donna Lombardi wishes boyfriend, Alex Robinson on Valentine's Day on 14th February 2019 (Photo: Donna Lombardi's Instagram)
On 23rd July 2019, Donna and Alex celebrated their first anniversary.
Dating History
Donna Lombardi was in a relationship with a man named Moe circa 2018. During their time together, Donna underwent an ectopic pregnancy, the pregnancy that occurs when a fertilized egg implants and grows outside the main cavity of the uterus. As a result, she lost her baby and also one of her fallopian tubes.
Amid the hardship, her partner supported her. But, their courtship soon came to an end in early 2019; a "shocking bathroom video" featuring Donna and her co-star Alex Robinson surfaced out during Black Ink Crew's seventh season. The surfacing of the claimed s** video became the reason for Donna's split with Moe.
Husband
Around 2015, Donna was a married woman, or her Instagram suggests so.
First, through an Instagram post of January 2015, she mentioned she was in a marital affair with a man named "kingmaxmajor." Then, on 20th April 2015, she wished her husband on their first anniversary.
But, since then, she has not posted any updates neither on her husband nor her marital life.
More Facts On Donna Lombardi
She constantly involves herself in charity works. She participated in Harvey relief efforts after 'Hurricane Harvey' shredded the Texas coast.

She believes cannabis legalization can benefit the United States economy and society as a whole. "Fewer prison intakes and drug sentences, with less convicted felons and more productive Americans,"– she said during an interview with Submit PR.

Her birth sign is Virgo.