Diane Sawyer is a renowned name amongst several other television journalists in the journalism world. Diane rose to fame as an anchor for the ABC World News and a co-anchor on Good Morning America.
She started appearing on the network from 1989 until 2014 when she suddenly announced that she was stepping down and leaving World News.
The good thing is she stayed with the network, be it on a different role, focusing on long-form interviews and investigations as an ABC News anchor.
Is Diane Sawyer Retiring?
Rumors of her possible retirement surfaced during 2013, citing the reasons that she was to take care of her ailing mother and some other "personal matters."
Continue The Read: Elizabeth Hashagen - Biography: Age To Happy Married Life With Husband & Family
However, the ABC News had denied the rumors naming it a "bunch of nonsense."
Moreover, even Diane said that her retirement was "not imminent" but might eventually happen in the days to come-
I would be delusional not to think that at some point I will want to step down. And I'm sure there will come a time when people will say, 'Her? Again? Still? But right now my job is giving me the opportunity to wake up in the morning and say, 'What if we...?' 'Why don't we...?' 'Look at this!' or 'Somebody's got to do something!
Diane did step down a bit from her responsibilities for the network after 2014. But she does not yet call it quits on her journalism career. 
Education
As a senior in high school, Diane represented the state of Kentucky at America's Junior Miss scholarship pageant and won the first prize. 
She then went for a Bachelor of Arts degree in English at Wellesley College, also briefly attending law school at the University of Louisville. 
Net Worth
Diane owns a net worth valued at $80 million, while her salary is reported at $22 million. 
Meanwhile, back in 2007, she earned an annual salary of $12 million from Good Morning America. 
More so, her husband, a famous film and stage director, Mike Nichols, who died of cardiac arrest on the 19th of November in 2014, left his estimated $20 million fortune to Diane Sawyer, and his three children from other marriages.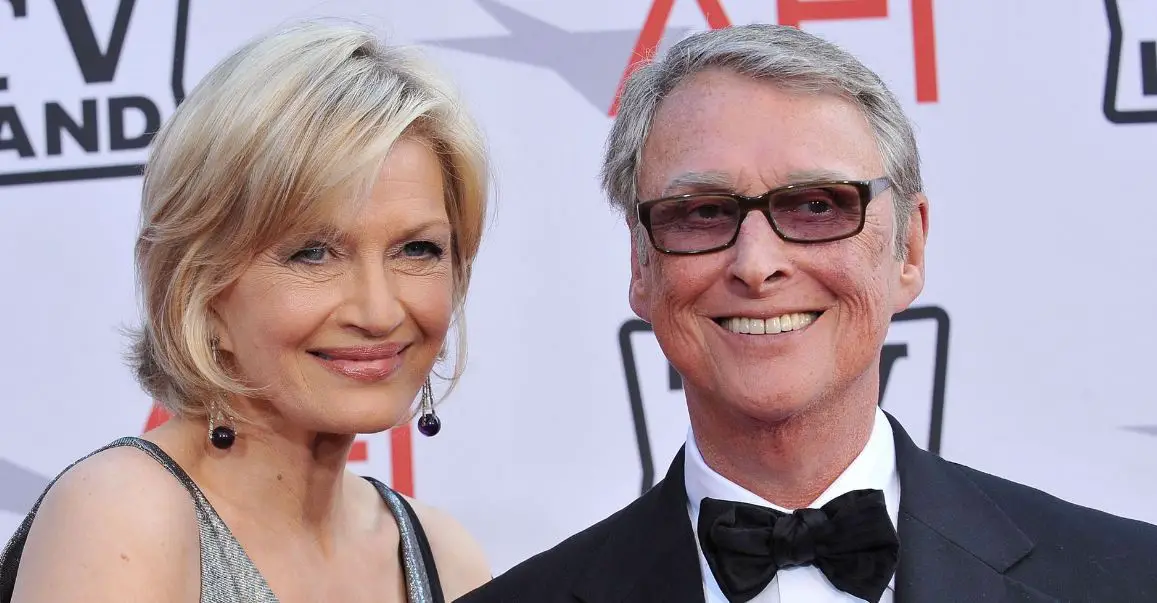 Diane Sawyer and her late husband, Mike Nichols at AFI Life Achievement Awards Honoring Mike Nichols at Sony Studios on 10 June 2010 in Los Angeles, California (Photo: gettyimages)
The Celebrity Net Worth, though, reports the long-deceased Emmy, Grammy, Oscar and Tony winner net riches at $100 million. 
Get To Know: Anaridis Rodriguez Wiki, Age, Married, Husband and Net Worth
The 1920s French country–style stone house Diane and her husband lived back in the time, was listed for $4.6 million in the architecturaldigest.com during 2016. 
Today
Diane presented the first television interview with Cameron Douglas, son of actor Michael Douglas who has had a troubled history.
During a new one-hour primetime special entitled, Douglas Dynasty: Fame, Addiction, and Finding Home, that aired on ABC's Good Morning America, Cameron revealed details on growing up as the son of a celebrated father. 
As a follow-up, Diane also interviewed Michael Douglas, who explained how his son's "drug" problem affected him and the family as a whole.