If you love skiing, then you must be surely familiar to the alpine skier Danelle Umstead.
Danelle, who stands at an average height of 5 feet and 2 inches(1.58m), has surprised everyone with her fantastic skiing skills. She is a victim of retinitis pigmentosa and multiple sclerosis, that makes her partially blind. 
But, with her applauding dedication, she has been a three times Paralympic bronze medalist for the year 2010, 2014 and 2018.
Danelle Umstead's Bio
Danelle was born on 15 February 1972 in Des Plaines, Illinois. She was raised alongside her two sisters Nicole and Michele. She went to a Plano High School in Plano, Texas.
Since her childhood, Danelle had a dream of serving the U.S army.
Recommended: Lea Elui Ginet Wiki, Age, Height, Parents, Boyfriend, Dating
But sadly, at the early age of 13, she was diagnosed with retinitis pigmentosa. This disease caused the loss of Danelle's sight and made her aim of serving the U.S army impossible.
But her father, Peter D'Aquanni did not give up on Danelle as he introduced her to blinds skiing and served as her first guide at the age of 29. Her interest in skiing grew so much each day that she turned the sport into a successful career.
Danelle in DWTS With Partner, Artem Chigvintsev
Despite facts of Danelle's disability, she has been able to name herself as a famous television personality. Well, she has not limited herself to skiing but is the part of 27th season of the show Dancing With The Star(DWTS).
Danelle will partner up with the famous Russian-American dancer Artem Chigvintsev just like dancer Sunjai William. 
On 14 September 2018, Danelle even shared a picture with her partner relating to the show and stated that they are looking forward to the support from their fan. 
Danelle Umstead's Prosperous Married Life 
Danelle's love life is also equally filled with happiness just like her career. 
Well, the 46-year-old is happily married to Rob Umstead, who is a skiing guide. Well, Danelle not only earned the love of her life but also accomplished many high rankings in her life with Rob.
The pair first met after Danelle moved to New Mexico. They started dating and eventually got married on 18 April 2008 and moved to Park City, Utah
As Danelle needed a guide because of her visionary problem, Rob took the job as a guide and has been guiding her since then. She uses a Bluetooth headset to communicate with Rob while skiing.
Similar: Keo Motsepe Married, Wife, Girlfriend, Partner, DWTS, Height
But Danelle's sickness never let her go as she underwent a surgery in March 2017. Well, she had a ganglion cyst in her wrist named Titanium, which was removed after surgery.
But without losing hope along with her husband, the pair founded a team called Vision4Gold and garnished it with Danelle's biography.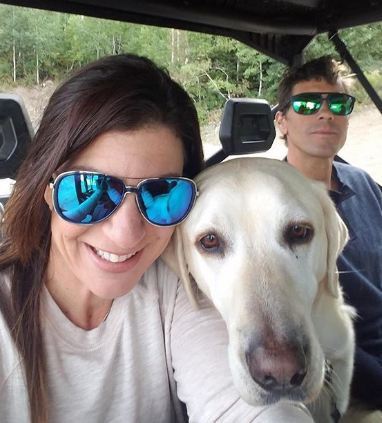 Danelle Umstead shares a happy moment with her husband Rob Umstead and her guide dog Aziza on 30 August 2018 (Photo: Danelle Umstead's Instagram)
The couple also shares a son named Brocton. Danelle's love for her son and husband can be speculated from her social media as she timely flaunts her family. For instance, on 16 July 2018, she wished birthday to her son Brocton on Twitter.
Interestingly, Danelle's family completes with her yellow guide dog, a Labrador named Aziza. Before Aziza, her guide was a black Labrador named Betty Lynn.