The journalist Dagen McDowell, best recognized as Fox Business Network's news anchor and Fox News Channel's business correspondent, shows no desire to have kids. After McDowell ended her first marriage, she settled with her second husband, Jonas Max Ferris, and the couple lives a cherished life with their pet dogs.
Explore Dagen McDowell's Married Life
Maintaining her privacy, the anchor hasn't revealed any information about her failed first marriage. And, So the details of her first husband and the reason for the divorce remain undisclosed. 
Moving on from the split, love found its way again when she first met Jonas Max Ferris in 2006 through an American business analysis series Cashin' In. 
Jonas is a contributor at Fox News and a co-founder of MaxFunds.com. Additionally, he also a professional producer best known for work in If the Trees Could Talk, Bulls and Bears and Mornings with Maria Bartiromo. 
It's unknown when the couple tied their knot, but Jonas appeared on McDowell's Instagram a few times. In one of her posts, the Fox anchor posted a photo of her husband playing with their dog. The couple had adopted a chihuahua named Ramon, but the dog might have died by now as there are currently no posts on Ramon on her Instagram except for her two pets Charlie and Dale. 
McDowell does not have any children from both of her marriages, but she loves her dogs as much as she would love her kids if she had any. She loves them so much that her Instagram is flooded with photos and adorable videos of her rescue dogs. Sadly, as per her post, on November 2020, Charlie got sick. But after few treatments, the dog is at its best health now. 
Moreover, the host does not seem interested in raising a child, as her Twitter post suggests. In a Twitter post of 2017, McDowell wrote, "since I don't have any children, I can use all my energy feeling sorry for yours." It clearly indicates the Fox anchor has no intention of having a child, and she would rather be a mother to her pets. 
Dagen McDowell's husband Jonas Max Ferris and her pet Charlie. (Source: Instagram)
What Do We Know About her Family?
McDowell, who has reached the age of fifty-two, grew up with her family in Campbell County, Virginia. Though her parents' name is unknown, she frequently posts her family's pictures on her social media handles. 
On July 23, 2020, she took to Instagram to reveal that her mother had passed away. She posted a beautiful picture of her mother soaking the warmth of sunlight by the window, and Charlie also accompanied her mother lying comfortably on her lap. She wrote that the picture was taken six weeks before she took her last breath and added,
Dogs know when and how to provide comfort, love, affection. Unlike so many humans, they race toward those who are suffering and snuggle in, stay close, provide peace...Snuggling with Charlie for hours on end was one of her favorite things in the final months of her life.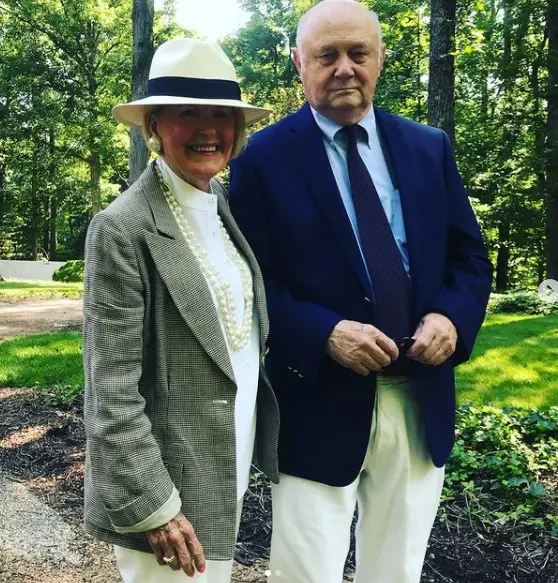 Dagen McDowell's parents. (Source: Instagram)
Know About Her Broadcasting Career and Net Worth  
After receiving her education from Wake Forest University in Art History, McDowell began her career at the Institutional Investor's Newsletter Division as a Financial Journalist. The anchor joined Fox in September 2007 as an anchor and appears on screens daily hosting Morning with maria. 
Prior to serving at Fox Business Network, she had already joined Fox News Channel as a business correspondent, made a regular appearance on Your World with Neil Cavuto, and was an anchor of Bulls and Bears. Currently, she is a regular guest on the program Outnumbered. 
Based on her accomplished career as a journalist, as source estimated her net worth to be 5 million dollars. And she probably has an annual salary of over 75 thousand dollars.