The Canadian relationship expert and the host of The Social Cynthia Loyst shares her love story that began almost 20 years ago. The mother to an eight-year-old son elaborates on the secret behind her decades-long happy relationship with her husband, Jason.
How Did Her Lovestory Begin?
Talking in an interview, the tv show host shared all about her relationship with her long-time partner Jason. The pair had come across each other several times when they went to York University and were in the same department. 
Even until their graduation, none of them ever spoke to one another. But, with a twist of fate, years later, after they had graduated, Loyst and Jason met again during the filming of a music video.  
"Years later, after graduation, I was hired by a mutual friend to belly dance in a music video, and Jason was hired as the director of photography," she said. 
Eventually, they struck a conversation at a party and exchanged their number. Then, they went on a first date at a restaurant at Bloor and Bathurst streets. 
Loyst, who was single at the time, had some questions prepared for Jason to see if he was worth her time. But, Jason's response impressed her instantly, and the rest is history.
A candid shot of Cynthia Loyst and her husband, Jason, on their wedding day. (Source: thismomloves.com)
Dating Turned Into Wedding
As their relationship strengthened with time, Jason and Loyst bought a house and began living together. Although it wasn't the best time in their relationship, Jason had already planned a surprise proposal.
One fine day, Jason took Loyst on a dinner date, where he surprised her with a wedding ring. She shared the proposal moment as such,
I went to the bathroom and came back to find a tiny box on the table, and then I knew. So I said, "I've been so awful lately, are you sure you want to do this?" Thankfully, he did.
Later the pair got married at the same place where Jason surprised her with the wedding ring. Moreover, in one of her Twitter posts, Loyst mentioned that her friend conducted her marriage and that she and Jason weren't legally married.
Besides, from their relationship, the pair share a son, Jaya, who recently reached eight, celebrating his birthday on May 1, 2021. 
Moreover, sharing her secret to a successful relationship, the tv show host said, 
We give each other lots of space and room to be individuals. I really value that. We also have had and continue to have some hard conversations at times.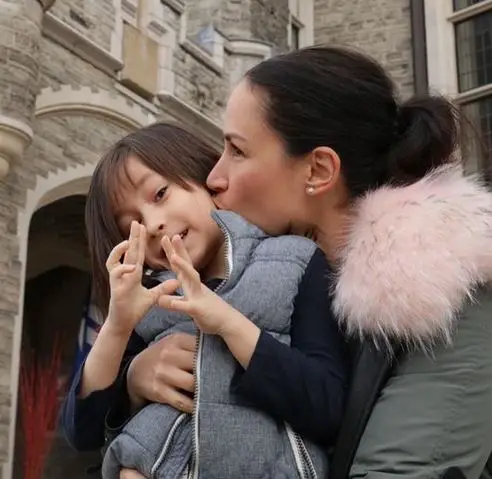 Cynthia Loyst embracing her son, Jaya, and planting a peck on his cheek. (Source: Instagram)
A Look Into Her Family and Career
Born on October 10, 1978, the Canadian television host shares a close bond with her family members. Loyst belonged to a religious household and was raised along with her older sister, a graphic designer.
Interested in entertainment from an early age, Loyst enrolled in York University for her education in fine arts. Upon graduating, she pursued a career in both television and radio, appearing on The Marilyn Denis Show, CTV NewsNet, ETalk, TVOntario, Proud FM, etc.
Loyst, a sex educator who authored the book Find Your Pleasure, is currently most prominent as the co-host of the CTV's show The Social, appearing alongside fellow hosts Lainey Lui, Melissa Grelo, and Traci Melchor.