Corey Rose is an award-winning journalist who works as an anchor at 9NEWS in Denver, Colorado, since January 2010.
Along with her journalism, she is dedicated to the community, as she is involved in many charity organizations, including Make-A-Wish Foundation and the Leukemia and Lymphoma Society.
Furthermore, Corey also makes time for her other interests like traveling, cooking, skiing, sports, and anything outdoors or adventurous, from her busy working schedule. 
What Is 'Wishes & Heroes'?
Wishes & Heroes is a non-profitable organization that was founded by Corey Rose in 2010 as a tribute to her late father, a retired firefighter with Los Angeles Fire Department, who passed away from acute lymphoblastic leukemia and multiple myeloma.
Read About: Allison Kagan Bio, Married, Net Worth, Ethnicity
Corey annually hosts the 'Wishes & Heroes' benefit concert, through which she raises money to grant a wish to a Colorado kid fighting Leukemia. 
So far, this program has been successful in granting eight wishes and aims to touch the lives of firefighters and their family members who are suffered from tragedies like job injuries/death or cancer.
Corey Rose's Husband Name
Corey Rose is married to Josh Cavan since 20th September 2014. Her husband, Josh, is a professional MMA fighter from Denver, United States. 
This year, the two completed their five years of wedding journey, and on that occasion, Josh posted a beautiful picture of him carrying Corey, and wrote that, 
"Happy 5 Year Anniversary my Queen. I can't believe it's already been 5 years. We've been through many ups and downs together, sticking by each other's side. I love you with everything I have."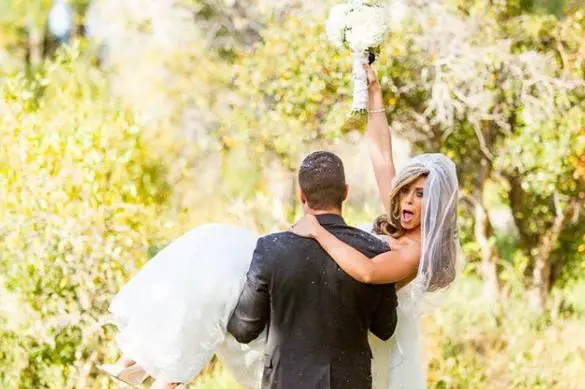 Corey Rose completes five years of marriage with her husband Josh Cavan on 20 September 2019 (Photo: Josh Cavan's Instagram)
After reading such lovely words, anyone can definetely say that Corey & Josh are pair made up from heaven. 
Adorable New Born Baby Details
Corey's family has been completed after the arrival of a new member, in the form of a baby boy, Christian Samuel.
On 10th February, Sunday, Christian was born healthy to Corey with a 7-pound weight, 9 ounces, and 20.5 inches long. 
However, it was a struggle for Corey and her husband to officially welcome a baby in their lives, as prior to Christian, Corey went through two miscarriages at around eight weeks of pregnancy, as per her blog.
Now, with Christian being nine months old and healthy, Corey and her husband must be feeling extremely happy to parent the adorable new boy. 
Her Wiki (Age), Salary
Corey Rose was born on 4th August 1985 in San Bernardino, California, United States of America, as Corey Rose Stameisen. 
She graduated Cum Laude from the University of Nevada, Las Vegas with a major in Broadcast Journalism and a minor in Health and Physical education.
After her education, Corey started her career as a production assistant and working her way up to the assignment desk at KCBS/KCAL in California.
A year later, she worked as an anchor and even produced the weekday and evening newscasts in Casper, Wyoming.
Also Read: Abigail Wexner Wiki: Husband, Children, How Much Is Net Worth?
Currently, she has been associated with 9 News for about nine years, and that definately means she has a luxury of good salary and respect from the news network.
However, Corey has not disclosed her salary or any earning details in public yet. 
Note: The average salary of the 9 News anchor is $41.7K as of October 30, 2019.