Casey Anderson is as an American wildlife naturalist and television host, best known for Nat Geo WILD's series Expedition Wild and America the Wild with Casey Anderson.
Besides that, the 42-year-old naturalist is also famous as the trainer and best friend of famed grizzly bear; Brutus, the Bear. Brutus has appeared in many films, television commercials, documentaries and live educational shows across the United States. However, his love has not been limited just to animals and extends to humans too. 
Casey's Best Pal: Brutus The Bear
Casey grew up in Montana surrounded by wilderness and animals, which brought him closer to animals and earned him a nickname "animal magnet" as a kid.
Don't Miss: Jamie Yuccas Bio, Age, Married, Spouse, Divorce, Salary, Weight Loss
After completing his college days, he became an animal keeper and trainer at wildlife parks. It was during his stay at the overpopulated wildlife park; baby Brutus came into the world.  Casey feared about Brutus being euthanized and transported him into a new sanctuary which signaled the start of a friendship between him and Brutus.
Brutus' time with Casey made him comfortable around people and making him a perfect assistant to teach park visitors about grizzly's anatomy and conservation.
Whats more, Casey together with Brutus has worked on many films, television shows, and commercials. And when they are not on the sets, they spend their days at a bear rescue and education facility, Montana Grizzly Encounter, located in Bozeman, Montana which Casey founded in 2004.
Married With Bear As Best Man, Only To Remarry
The wildlife naturalist was previously married to actress Missi Pyle in 2008. The couple first met on the sets of 2007 film 'Pretty Ugly People,' in which Missi and Brutus co-starred, and Anderson worked as an animal trainer.
The couple started dating after the movie, and the relationship quickly blossomed to husband and wife within a year.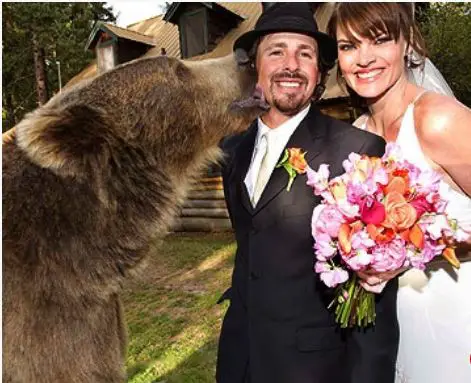 Casey Anderson with his ex-wife Missi and Brutus, the bear picture published on 13 May 2009 (Photo: people.com)
Brutus the Bear was the best man at their wedding ceremony, held in September 2008 at Holland Lake Lodge in Montana where the couple had first met. However, the relationship between Casey and Missi could not survive for long, and they decided to part their ways and officially divorced 2013.
After the divorce, Casey found love again; this time with Stephanie Gazda in 2015. Stephanie Gazda announced the news of their engagement through her twitter account where she posted the picture of herself flaunting an engagement ring on her figure and wrote she and Casey were engaged.
And the couple finally stepped up their relationship from engaged to married after exchanging the wedding vows in August 2016. As of now, the couple lives together in Paradise Valley, Montana with their dogs Jack and Muppet, and their cats Mao and Magpie as a happy family.
Casey and Stephanie have been married for two years, and still, they share an alluring bond with each other.
Besides that, his wife Stephanie is an active user of her social account and keeps flaunting pictures of their bond.
As back on 14 February 2018, Stephanie shares the pictures of herself with her husband wishing him on the special occasion of Valentine's Day through Facebook.
Moreover, she also announced the news of her 18 weeks of pregnancy showing her baby bumps through the Twitter account on 27 June 2018.
See Also: Kathryn Boyd Wiki, Age, Birthday, Pregnant, Married Life with Josh Brolin
Adding to all their happiness, Casey and Stephanie were blessed with a baby daughter Adele Dolores Anderson on 25 November 2018. Soon after giving birth, Stephanie expressed her breathtaking experience of being a mother through Instagram. Earlier in December 2018, Casey posted a picture with his daughter highlighting the harshness of leaving home despite the exciting adventures.
With their daughter Adele, Casey and Stephanie have been undergoing a whole new experience of every little big thing in their life.
The 2018 Christmas was the first ever Christmas of Casey and Stephanie with their daughter. The couple posted a picture with their little one calling her the greatest gift on earth.
Similarly, the May 2019 mother's day was the first ever mother's day experience to the newbie mother Stephanie with her little angel Adele. Casey and Stephanie worked in their garden to set it up for planting. Stephanie posted a picture in the garden with her husband and daughter.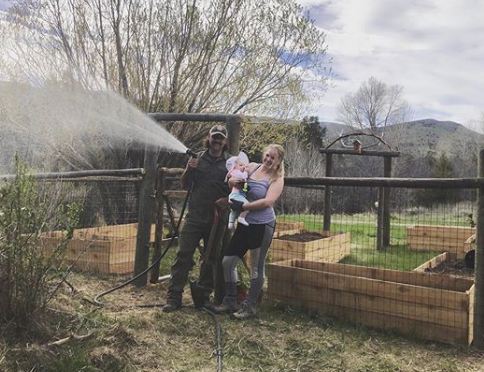 Casey Anderson & his wife Stephanie Gazda pose with their daughter Adele on 13 November 2019 (Photo: Stephanie Gazda's Instagram)
The couple seems to enjoy each moment of their life with their daughter. Their parenting bliss is totally apparent in their social media picture.
From Guiding Film-Makers To Film-Making: Casey's Wiki-like-Bio
Casey was born on 20 August 1975 in East Helena, Montana. He was fascinated by wildlife from an early age and by the age of 18, he was already guiding wildlife filmmakers into the backcountry of Montana to find and film elusive wild animals.
Apart from that, he has been involved in filmmaking and television production since 1990. Casey is also the founder and executive producer of VisionHawk, a wildlife film production company.
Casey, who has the net worth around $500 thousand dollars, has also appeared on multiple television talk shows like Oprah Winfrey, Good Morning America, and Conan O'Brien and also was a part of American reality show Dude You're Screwed which aired in 2014-15 on the Discovery Channel.