American journalist Carl Azuz is the anchor of CNN Student News, a daily news program designed to bring current events into middle and high school classrooms.
Carl served as an anchor of CNN 10, a 10-minutes on-demand news broadcast ideal for explanation seekers on the go or in the classroom. He is also one of the topmost anchors in CNN where he has spent a large chunk of his journalism career.
Apart from that, Carl is quite versatile when it comes to reporting as the media personality has served in roles ranging from package producer, reporter, and writer. He has also covered every topic from the war in Iraq to the world's most expensive ice cream sundae.
Carl Azuz's Short Wiki-Bio (Age): Height, Family
There is not much information about the media personality as he has managed to keep the information under the wrap. 
As his exact birthdate is not disclosed, and as such nobody knows how old he is, but judging from his recent picture, it looks like Carl, who stands at the tall height of 6 feet and 2 inches, is in his 40's.
You Don't Want To Miss: Wolf Blitzer Wiki, Married, Wife, Divorce, Salary and Net Worth
Similarly to his age, his place of birth and even the details about his family also remain a mystery.
As for his educational qualification, Carl earned his bachelor's degree in telecommunications arts production from the University of Georgia.
Carl Azuz's Career: CNN
As he is a private person, there is also no any exact information about how Carl initiated his career. But what is known is that he is now the presenter of CNN Students News.
Carl also works as a contributor on CNN Newsroom. His primary focus has been on in-depth explanations of a range of stories, including the U.S. debt limit, the costs of college, the history of the U.S. Postal Service, the factors that drive gold prices, and the Atlanta Public Schools cheating scandal.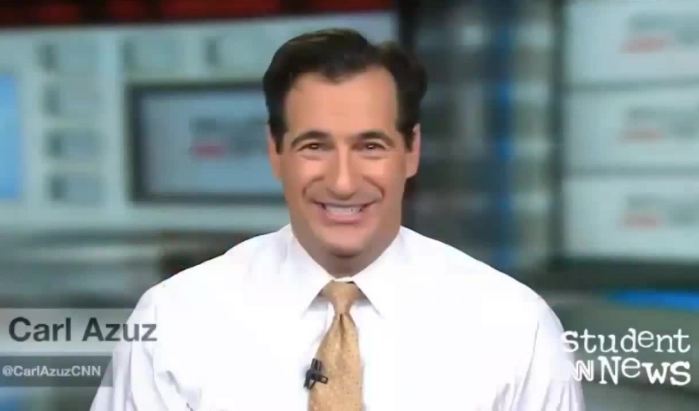 Carl Azuz presents the CNN Students News, a daily news program designed to bring current events into middle and high school classrooms (Photo: coub.com)
He has also participated in public speaking events across the country; and his speeches have been heard at national conventions, charity events, workshops, and graduation ceremonies.
Previously, Carl served as a writer and associate producer for CNN International, and his original reports have appeared on virtually every CNN platform
Find About: Kate Bolduan CNN, Age, Husband, Pregnant, Salary, Height
Carl Azuz' Net Worth
Thought the exact net worth of Carl remained confined to the media, the average salary of a news anchor at CNN.com earns an average of $85,757, ranging from $50,555 at the 25th percentile to $106,896 at the 75th percentile, with top earners (the top 10%) earning more than $149,729. 
Is Carl Single Or A Married Man?
Carl has never been very open when it comes to talking about his personal life. He believes his work to be his identity and insists on keeping his relationship classified.
However, he has been speculated to be engaged once to his apparent girlfriend. The shocking rumors came to the media when a random Twitter user mentioned him on his twitter account; stating that he saw Carl wear an engagement ring on 14 November 2016. After the picture got uploaded, the rumors about his engagement peaked.
See Also: Lisa Riley Husband, Partner, Boyfriend, Weight Loss, Diet Plan
But the uber journalist hasn't uttered a word regarding his ongoing rumors about him getting engaged. Because of that, it can only be speculated that he might be a married man and has a wife. But there isn't any real news addressing that.