William George 'Bill' Hemmer popularly known as Bill Hemmer is an American journalist and works for Fox News Channel. He started Fox News in 2005 and has been working there over since. FOX News is a New York-based news station.
Bill Hemmer Wiki, Age, Height
Bill was born on November 14, 1964, in Cincinnati, Ohio.  He is the son of William R. Hemmer and Georganne M. Knittle. His parents had five children He is the third child and second son among his four other siblings. Before Fox News, he worked as a reporter and anchor at CNN from 1995 to 2005.
Bill attended Our Lady of Victory Catholic parochial school at Cincinnati. He graduated from Elder High School in Cincinnati. Bill holds a bachelors degree in Broadcast Journalism from Miami University which is located in Oxford, Ohio. While he was at Elder, Bill and his friend started a radio program which played fifteen minutes of music before the classes began.
You May Also Like: Sandra Smith Married, Husband, Divorce, Boyfriend and Net Worth
While he was in college, Bill interned as a radio disc jockey for Mama Jazz at WMUB-FM and later he joined the iconic WOXY-FM, which is considered to be America's first alternative music station. After that, he took an internship at NBC affiliate in Cincinnati. When he was 26, he took a year-long hiatus from CBS channel to go around the world. During his tour, Bill traveled through India, Egypt, Israel, China, Vietnam, Nepal, and Eastern Europe. 
Now at 54 years of age, Bill stands at the height of 5 feet 9 inches(1.75 meters).
Bill Hemmer Salary, Net Worth
Bill Hemmer spent ten years at CNN channel where he hosted a number of programs, such as CNN tonight, American Morning, CNN live today, CNN morning news with different co-hosts such as Paula Zahn and Daryn Kagan. While working at CNN, Bill covered the bombing of the 1996 Olympics in Atlanta. Bill also spent 37 days in Tallahassee, Florida, during the Florida election recount of the  U.S. presidential election in 2000.
He reported from World Trade Center site in New York City for a month after the attacks of September 11, 2001. Bill received an Emmy Award for his work on CNN's coverage of the Centennial Olympic Park bombing in 1996 at Atlanta. It is rumored that he was fired from CNN, so he joined FOX in 2005.
Given that Bill Hemmer is passionate about his job and good at what he does, he enjoys a substantial net worth of $9 million and a huge salary of $3 million.
Bill Hemmer Married, Wife
Bill Hemmer is not the kind of celebrity who talks about his love life in interviews and posts lovey-dovey pictures on social media. This led to the speculation about his sexuality and rumors about him being a gay was on the air. The talks soon blew off when Bill officially announced that he had a girlfriend and he was dating her for quite a time. He also revealed that he had dated few other girls while he was at his young age, but was never seriously involved in any of the relationships.
In 2008, Bill Hemmer revealed the picture of his secret girlfriend in an interview from his phone! That was quite unlike Bill Hemmer, but this gesture shows how smitten he was by his girlfriend. The picture revealed none other than Dara Tomanovich, who is a popular model and an actress.
Discover: Andrea Tantaros Married, Husband or Boyfriend, Dating and Salary???????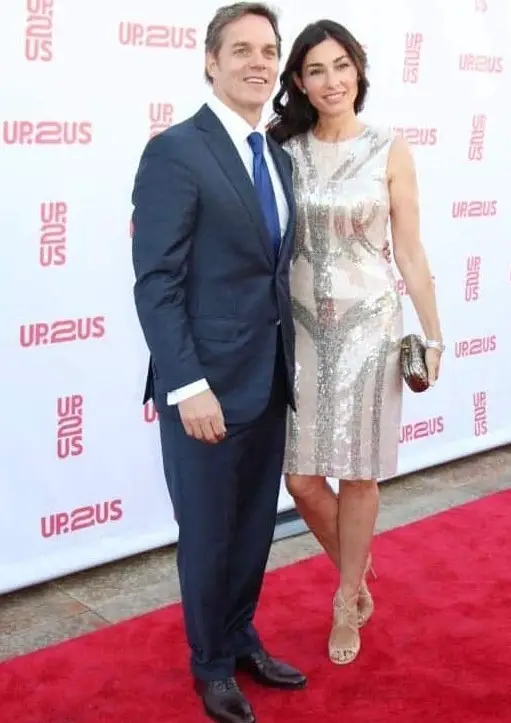 Bill Hemmer in a Red carpet function with his then-girlfriend, Dara Tomanovich  (Photo: wikicelebinfo.com)
The couple was serious and dated for over nine years, but split up due to some unknown issues. The split was finalized in 2013, and in 2018, Dara was spotted with Prince Andrew of Britain at the Royal Ascot races. 
It seems that Bill Hemmer is single now, and spending time learning more about himself.