Bertha Coombs is one of the most talented journalists in the television industry. She has been active in the industry for more than a decade. Bertha has been working as the CNBC reporter for the past 16 years. Bertha Coombs is a reporter for CNBC, covering financial markets, business news stories and health care throughout the business day.
Apart from her professional career, Bertha Coombs prefers to keep her personal life away from the social media and is reluctant on speaking about it.
Bertha's Short Bio, Career, Net worth
Bertha Coombs was born in Habana, Cuba and celebrates her birthday on 5 January but there is no information about her birth year. She grew up in Boston. Bertha graduated from Yale University and was awarded the Leo Beranek Reporter Training Fellowship at WCVB-TV in Boston.
She began her journalism career in general news, with previous reporting and anchoring positions at WABC-TV in New York, WPLG-TV in Miami and WFSB-TV in Hartford, Connecticut.
Before joining CNBC, Bertha was a reporter and anchor for the pioneering online business network and Yahoo Finance Vision.
Bertha also worked as a freelance reporter for the former CNN financial network. Before that, she served as a reporter for ABC News One and a substitute anchor for "World News Now" and "World News This Morning."
Currently, she serves as a news correspondent for CNBC since 2002. Her field of expertise is the financial market, business news, energy, and healthcare related issues.
Talking about her net worth, Bertha earns a huge annual salary from her work in ABC News and CNBC. However, she has not revealed her exact net worth to the media.
Bertha's Family Life
Bertha's family is originally from Cuba, but they later settled in Boston. Bertha was raised her mother as her father passed away due to lung cancer some twenty-eight years ago.
Recently on 5 April, she has shared a picture of her father on Instagram stating that that day was her father's 88th birthday. They lost him too early due to lung cancer, and there are many other things which they could not share.
After the death of her father, she takes care of her mother and tries to make her feel special.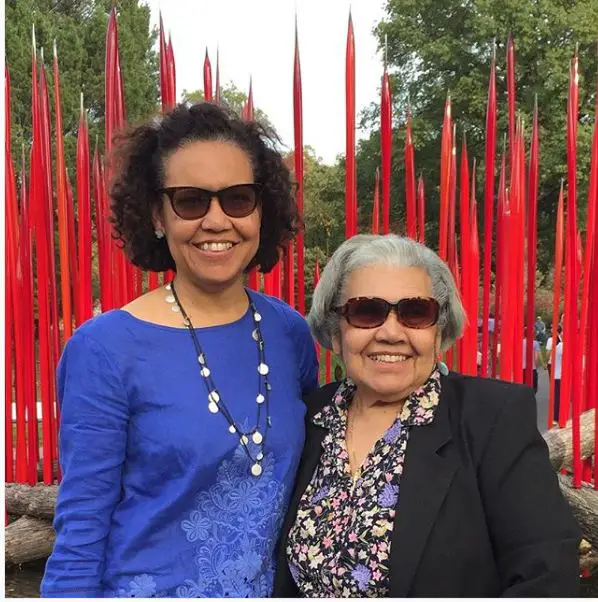 Bertha Coombs enjoying her day with her mother at Botanical Garden, New York posted on 22 October 2017 (Photo: Bertha Coombs's Instagram)
Bertha often keeps flaunting pictures of her mother through social media. As back on 22 October 2017, she shared a picture of her mother via Instagram in which she captioned, beautiful day with the self-proclaimed.
Does Bertha Have A Husband? Or Still Single?
Since Bertha is quite a secretive person, there is no any information about her dating life. It looks like she is more focused on her career rather discussing her personal life.
As she maintains personal space, she is very reluctant on speaking about her married life and husband.
Bertha is an active user of social media account and often updates post related to current world affairs. However, she is often seen flaunting pictures of a man on Instagram with whom she spends most of the vacation and family moments.
They are often seen capturing cozy pictures together. Back on 28 May 2017, Bertha shared a picture with a man on Instagram having fun together.
But there is no any hint on her married life and personal life. Until and unless she comes up with the revelation nothing can be said or assumed in this matter.