Loyalty lies on the risk you put yourself into, for the achievement of the task you are assigned. Your faithfulness undoubtedly gets reflected in the results, and come up with the bonus of trust from the other side.
Atia Abawi is a brilliant journalist and writer, whose works reflect the lives of people from underdog societies and countries.
Atia's work in the local and global media for countries like Afganistan, Pakistan, Iraq, and many more, has helped people get noticed of the situations in the places.
No doubt, the lady is set to continue her exclusive works and takes the field of journalism and storytelling to a higher level.
Atia Abawi's Bio: Age, Family
The famous writer, Atia Abawi, celebrates her birthday on 9th August every year. The German-born lady is 37 years of age in the time being.
Although Atia has not revealed much about her physical characteristics, including height, she has maintained her youthful image through her presentations and public appearances. 
Atia was born a refugee to her parents, Mahnaz Ismail and Abdul Wahid Abawi, in Germany and later shifted to the United States when she was only a year old. Atia resided with her family in Virginia for the longest time. 
Glance Into The Life Of: Sloane Crosley Married, Husband, Boyfriend, Sister, Bio, Net Worth, Books
Atia gained most of her educational degrees from the Virginia Tech. Besides her graduation from the Virginia Tech, Atia also attended King's College London.
Atia always dreamt of becoming a journalist and with her splendid education, skills, and passion, well justified the profession. 
No doubt, the kind of passion and dedication she has will lead Atia to a greater height of success in the upcoming days. 
Atia Abawi Wedding With Husband
Atia Abawi got married to the love of her life, Conor Powell, on 7th July 2012.
Atia and Conor were engaged for more than a year before their wedding. Their engagement took place during a scuba vacation in the Bahamas, in June 2011.
Atia's husband is also a journalist, who at present, works for CNN as a freelance correspondent. Atia and Conor's professional background in journalism has undoubtedly, much to do with the initiation of their love story.
As of now, Atia and her husband are admiring the joy of parenthood with their two kids.
They have a four-year-old son and a daughter, not even a year old, born in March 2019. The two fresh ones have completed Atia and Conor's family and filled it all with happiness.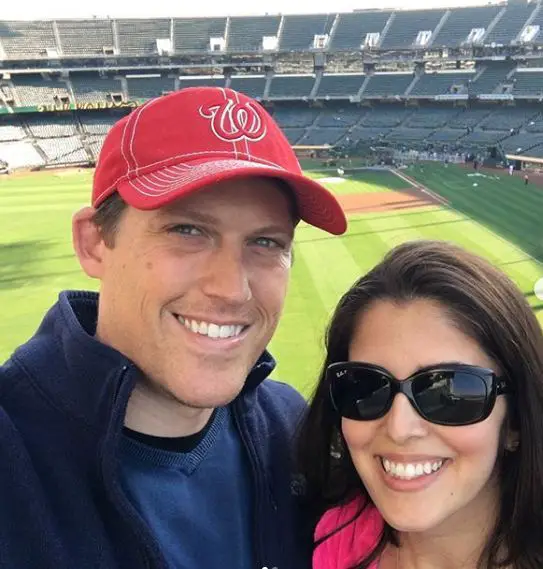 Atia Abawi poses with her husband, Conor Powell, on 31 August 2019 (Photo: Atia Abawi's Instagram)
Most often, in public platforms, Atia focuses on her professional life. Although, rarely, but times and again, she keeps her fans and followers updated about her personal life as well. 
See Also: Shazia Mirza Married, Husband, Partner, Wiki, Parents, Tours
Thus, be it professionally or personally, Atia's fans are delighted with the persona she has created in the public grounds.
Atia's nature undoubtedly continues motivating people even in the future with its grace and elegance. 
Her Net Worth
With her journey in journalism, Atia has been able to collect hundreds and thousands of stories.
Besides her explicit research and field visits, Atia has apprehended the idea of unique living through her articles and books in the mindsets of people.
Thus, Atia has become able to connect varied cultures, societies, mindsets, and most importantly, the different worlds. In return, Atia has been garnered the support of millions of hearts.
Apart from those fan followings, the riches Atia has made out of the payments she gets for her works must also be significant in amount.
Atia, being the competitive and uncommon one, supposedly makes a far more considerable amount than of a writer, who on average, gets the salary of more than $50K.