Alexis Stewart is an American television host as well as radio personality better known as the host of radio talk show Whatever with Alexis and Jennifer, where the two hosts talk about topics varying from pop culture to personal relationships. The program renewed its second season as Whatever, Martha, titled after Alexis's mother, Martha Stewart.
The two-hour lifestyle format show involved Alexi and her co-host making fun of Martha Stewart's Living episodes. The two attempted to cook or remake one of Martha Stewart's projects to test how difficult the projects are to complete.
Alexis Stewart's Bio (Age)
Alexis Stewart was born as Alexis Gilbert Stewart on the 27th of September 1965 in New York City. She is the only child of her parents Martha Stewart and Andrew Stewart who divorced in 1990, after getting married in 1961. Her mother is Martha a retail businesswoman, writer, television personality, former model, and convicted felon.
Alexis's Relationship With Parents
Growing up, her mother was not always very motherly.
Together with her radio and television show co-host, Alexis wrote a book, Whateverland: Learning to Live Here and a decent part of the writing was about her family— especially her mother.
TV Host, Also Born In The 1960s: Suzanne Sena Married, Divorce, Husband, Partner, Lesbian, Bio
Alexis confessed it was like growing up with a "glue gun pointed" at her head. If she didn't do something perfectly, she had to do it again, the holidays were not particularly enjoyable, and there never was anything to eat at the house, despite her mother's celebrity image as a pro in the kitchen.
Meanwhile, in recent times, the mother-daughter relationship is said to have improved a lot.
On the contrary, Alexis is still not in talking terms with her father. She stopped being in touch with him since 1988. Taking to New York Magazine, at some point, Alexis revealed how worse she felt of him. In Alexis's words:
He was a d*** in many ways. Monetarily. Emotionally. And he was creepy to me. He's just creepy.
Andrew, her father, himself admitted that he and his ex-wife did a poor job as parents and were "completely immersed in other things".
Wedding; Divorce With Husband
On 26th September 1997, Alexis Stewart got married to John Robert Cuti, one of Alexis's mother's trial lawyers during her "infamous" legal case concerning stock trading.
Another Television Personality: Eboni Williams Married, Husband, Boyfriend, Parents, Ethnicity, Fox News
Unfortunately, Alexis and her John reportedly separated in June 2003, eventually settling for a divorce in 2004. The same year, talking to Larry King Live, she said, although estranged they are "great friends".
Children
Alexis Stewart is the mother to her two children: daughter, Jude Stewart (born on 8th March 2011) and son, Truman Stewart (born on 7th March 2012). Both the kids were born via surrogacy.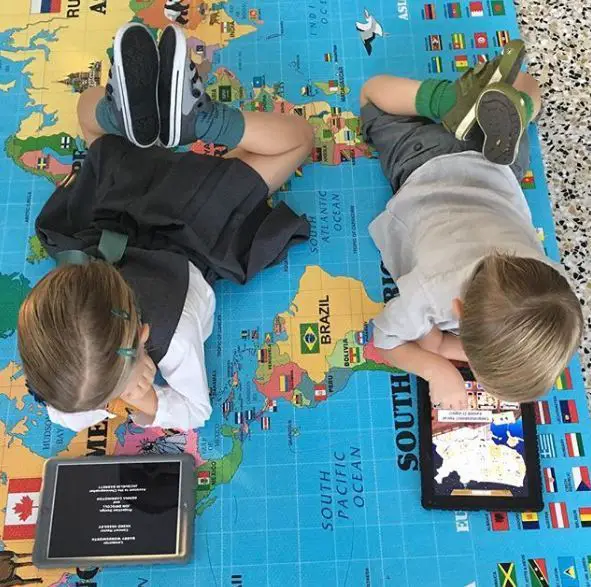 Alexis Stewart's daughter, Jude Stewart, and son, Truman Stewart on 17 December 2015 (Photo: Alexis Stewart's Instagram)
Before considering surrogacy as an option, she spent five years struggling to have a child. In the process, she went through several failed IVF treatments and miscarriages even spending $27 thousand a month for in-vitro fertilization treatment with an added $6 thousand for the drugs that stimulate egg production.
On 9th October 2007, she discussed her struggle to motherhood on The Oprah Winfrey Show.