English Chef Ainsley Harriot is famously known for his BBC cooking shows like Can't Cook, Won't Cook and Ready Steady Cook. He is also a television presenter and entertainer for the shows like Good Morning with Anne and Nick, Ainsley's Barbecue Bible.
Aside from the blissful career, Ainsley was once married. He even has two children from his marriage. But their relationship eventually turned south, and the duo parted ways with divorce in 2012.
Ainsley's 23-Year-Marriage Ends With Divorce
Ainsley was previously married to Claire Fellows. 
The couple dated each other since 1988 and tied the wedding knots after one year in 1989.
Ainsley with his wife welcomed their first child, a son named Jimmy Harriot in 1992. After three years of the birth of their first son, the pair's family was blessed with a second child, a daughter named Maddie Harriot in 1995. 
Similar: Chef Chuck Hughes Married With Partner? Wife, Daughter, Height, Net Worth
Ainsley with his wife and children lived together in a lavish home in South London. Their house was worth $1.40 million.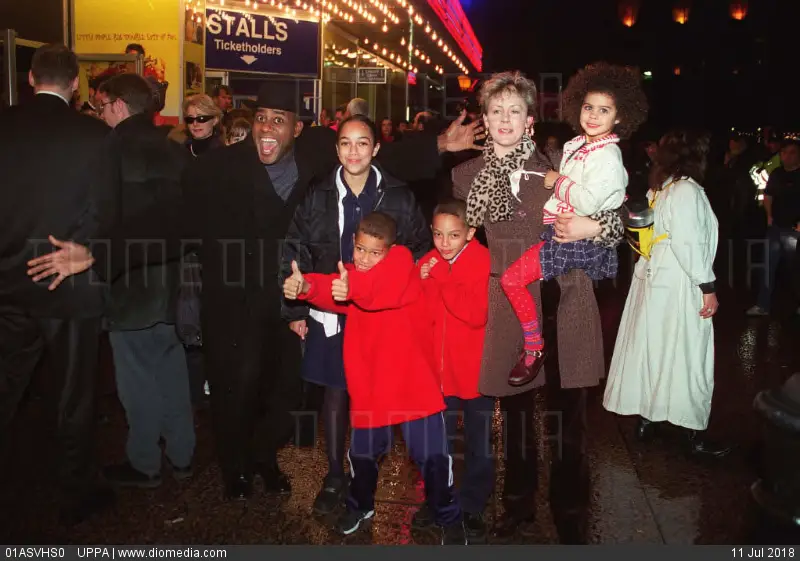 Ainsley Harrington with his family at the premiere of The Borrowers (Photo: diomedia.com)
The pair even timely attended various events with their kids. But things started turning south when Ainsley was accused of having an affair back in 2004. To erase the rumors and the name of the women he was linked to, Ainsley launched a legal battle. 
But despite all the efforts, the couple ended their 23-years-long marriage and got divorced in 2012. Since then, the duo has been living separately. Although they are no more together, they are still friends and are in touch. 
Moreover, Ainsley has not been linked with any other women since the divorce. He does not share his personal life often in social media except for his cooking recipes.
The low-keyness in his love-life has brought speculation's regarding his sexual orientation. But, he spoke out to media regarding his sexuality and stated that he is not gay. Adding to this, he also admitted that people are often surprised that he is not gay.
Ainsley Harriott's Short Bio 
Ainsley was born on 28 February 1957 in London, the United Kingdom. His father, Chester Leroy Harriott was a pianist and singer, while his mother, Peppy, is yet to disclose details.
Ainsley was trained at Westminister Kingsway College. He obtained apprenticeship at Verrey's restaurant in the West End.
Ainsley Harriott's Career: Talents Dwells In Singing And Comedy
He is a multi-talented man with talents in comedy, singing, and cooking as well. He released his hit record World Party in the early 1990's forming Calypso Twins with his school friend Paul Boross. The Calypso was then hired to perform regularly at the Comedy Store and Jongleurs. They also played in America and on TV and radio shows.
More From Chef's List: Isaac Carew, Dua Lipa's Boyfriend Wiki, Age, Model, Religion, Height, Facts
Afterward, Ainsley became the resident chef on Good Morning America with Anne and Nick. Eventually, he landed as the main presenter of Can't Cook, Won't Cook and Ready Steady Cook. He was also the president of the Television and Radio Industries Club and presented the awards ceremony in the year 2005. 
Apart from cooking, Ainsley has also written several cookbooks Can't Cook, Won't Cook, Ainsley's Ultimate Barbeque Bible, All New Meals in Five Minutes, Just Five Ingredients, The Feel Good CookBook, Ainsley Harriott's Low Fat Meals in Five Minutes, Ainsley's Carribean Kitchen and the list goes on.
His latest book Ainsley's Carribean Kitchen will be out very soon in the summer which has gotten the fans more than excited to learn his unique skills, tips and tricks. 
Later, he played as the narrator of The Rocky Horror Show at the New Theatre, Cardiff in March 2010, at the Churchill Theatre, Bromley in October 2010, and at the Richmond Theatre in November 2010.
As of now, Ainsley has completed his shoot for the SBS television show the Market Menu. He spent his weekend in Warrnambool to film an episode of My Market Menu where he met local stallholders and producers before creating his unique market menu using delicious local produce.
The show will be broadcasted later this year in 130 countries worldwide. Ainsley will also visit Lana's Garden in Warrnambool and Yumbah Aquaculture to create additional segments.
Ainsley with his hand full of jobs has already amassed a net worth of over $4 million.
Enjoy Reading: Elizabeth Falkner Married, Partner, Girlfriend, Gay, Bio, Restaurant
Besides, as the chef residing in London, Ainsley's average base pay touches the figure of £20K per year. Adding more to his income, Harriott reportedly bagged £10,750 from the London borough of Tower Hamlets for judging a curry competition in 2015.
Harriott's Assassination Plotted By Dark Web!
Reports from metro.co.uk published on 20 August 2018 suggested that an unknown person tried to use the hitman-for-hire service, Besa Mafia to plot the assassination of the English chef, Ainsley Harriott.
However, the execution never occurred as the website was a mere scam designed to steal Bitcoin.
Though the assassination of Harriott was probably a well-organized joke, the previous incidents involving the people trying to organize killings using Besa Mafia remains far from being funny.