Tedric Thompson chose sports and that too college football to pursue on for the rest of his life for many reasons. One of them being his father, Cedric Thompson, who had this humungous drive for football. He grew up in Arizona playing football, and naturally, he saw his sons according to inclination in the area.
But then the father-Thompson not just wanted to see them play football but also ace it, eventually building a career out of it.
And, so it happened, all that Tedric Thompson's father dreamt of came true eventually. Tedric Thompson is none other than the star American football safety for the Seattle Seahawks of the National Football League (NFL).
Standing to a height of 6 feet (1.83 meters) and varying weight of 204 lb or 93 kg, Tedric had signed a four-year contract with the Seattle Seahawks on May 2017. The contract had promised him a sum of $3.07 million that included a signing bonus of somewhere around $672K.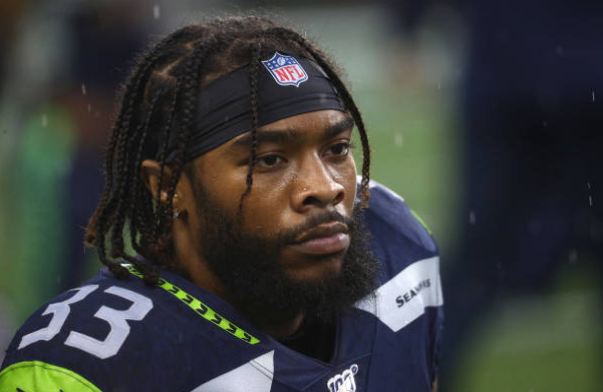 Tedric Thompson during the game Oakland Raiders v Seattle Seahawks (Photo: gettyimages.com)
As for September of 2019, there is a surfacing doubt that Seattle could be without Tedric, its star player in its upcoming game against the Steelers. The injury Tedric faced at the Cincinnati game might cost him his favorite match in the forthcoming days. Only time will reveal!
Tedric Thompson's Bio (Family Details)
Like Tedric, his older brother, Cedric Thompson (named after his father) is a professional player. Meanwhile, Cedric is a former American football safety.
Tedric grew up in Bombay Beach, California, playing soccer with his father and brother.
Read More From Sports-world: Phillip Danault Wife, Family, Contract, Salary
Football was the only thing that brought the Thompson boys together. Before football was routinely introduced in thier life, the boys had this bad reputation of not getting along, fighting all the time and arguing over almost everything.
On a particular day, father Thompson brought the boys to the Jesse Owens Park in Los Angeles, a place consisting of a large indoor swimming pool, a gym and a stretched out practice field.
By the time, Tedric was seven and his brother, 9. The young boys initially assumed they were to go swimming until their father ordered them to throw off whatever they had brought with them for swimming.
Instead, the father said- 'Let's go over here. We're signing up for football.' And that changed everything. As soon as the kids started playing football, they bonded so well, leaving their father dumbfounded and contended at the same time.
More to Tedric's sibling is his sister, Cedrinae Thompson, who like many other details of Tedric life, remains under the radar.
Tedric is literally uptight when talking about his personal affairs. In such a scenario, his dating life, and marrital status are completely far-fetched details to his life. But then he is not seemingly married to his wife, or else there certainly would have been some hint to the matter.
His Net Worth
As per Tefdric's contract with the Seattle Seahawks, he was guaranteed an average annual salary of somewhere around $7.68 million. Meanwhile, by the end of 2019, Tedric was expected to earn a base salary of $6.45 million including a cap hit of $8.13 million and a dead cap value of $336K.
Keep Up The Read: Cody Ceci Married, Wife, Contract, Net Worth
The miscellaneous six-figures p[ay cheques only suggest that Sewhawks lucky charm, by the age of 24, has already garnered a net worth that values up to multiple millions.