Sydel Curry is an American former volleyball player, who hosts her own Facebook Watch show, Sydel Takes On. There, she interview's family members of different celebrities.
Besides being a player and host, she is also into a bit of business that has led her to launch a new wine called Domaine Curry. 
Many people also know Sydel as the daughter of the former NBA player, Dell Curry. Unlike her father, Sydel is yet to rise in prominence; however, from her work, she has an overwhelming chance to rise higher in the upcoming year. 
Engaged To Wedding Details With Fiance-Turned-Husband
The stunning lady is happily married to her husband, Damion Lee, an American professional basketball player for the Golden State Warriors.
Sydel and Damion started dating in around 2016, but Sydel has kept the story of how she met her boyfriend, to herself. 
After two lovely years of relishing their dating life, Sydel and Damion changed their relationship tag when Damion proposed to Sydel.
Know About: NFL Anthony Trucks Wiki, Age, Wife, Net Worth
Sydel wasted no time to announce her engagement with her boyfriend-turned-fiance through her Instagram account, where she flaunted her diamond engagement ring. 
Months after getting engaged, Sydel and Damion promised eternity with each other in front of their family and friends as they exchanged their wedding vows in Charlotte, North Carolina on 1st September 2018.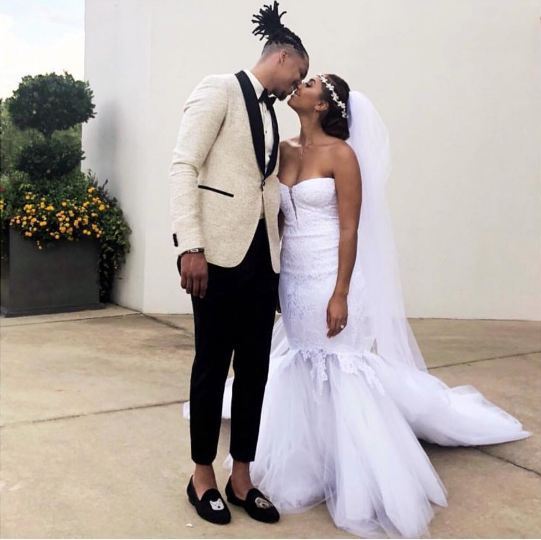 Sydel Curry with her husband, Damion Lee, on their wedding on 1 September 2018 (Photo: Jess Jewel's Instagram)
During her wedding, Sydel's brother, Stephen Curry, served as the groomsman and his wife Ayesha Curry served as a matron of honor.
The most famous members of her family who happen to be Stephen's two daughters, Riley and Ryan, played the major part as they served as flower girls for Sydel on her big day.
Sydel Curry's Bio, Age & Height
Sydel, who was born on 20 October 1994, stands at the height of 5 feet 8 inches (1.75 meters).
Sydel's mother, Sonya Curry, is also no stranger to competitive sports because she is also a former volleyball player at Virginia Tech University. Sydel got inspired by her mother, and at an early age, she turned her interest from basketball to volleyball. 
She is the third child of former NBA player, Dell Curry and the sister of the American professional basketball player, Stephen Curry.
Her brother is married to his longtime girlfriend, Toronto native, Ayesha Alexander, in Charlotte. Together, Stephen and Ayesha have three children, daughters, Riley Elizabeth Curry and Ryan Carson Curry, and son Canon W. Jack Curry. 
Enjoy Reading: Blair O'Neal Wiki, Boyfriend, Husband, Parents
For Sydel's education, she attended Montessori school, which was run by her mother. Later, she moved to Toronto with her father, and she began her elementary school at the Queensway Christian College in Etobicoke, Ontario. 
Net Worth From Job 
Sydel proudly carried on the family legacy and played volleyball during her school time. Through her skills, she successfully managed to reaffirm her identity as an athelete and a self-reliant young woman. 
After playing 81 matches with a total score of 2,381, Sydel took retirement from volleyball career. As of now, she holds a job as a host for the show, Sydel Takes On. 
Through her contributions, she has not only earned name and fame but has also made herself financially stable. Although her net worth is yet to be unwrapped, she might have made a considerable fortune.