Creating a sensation in the athletic world, Simone Biles is an ace gymnast.
She has made her mark in the Olympics and the World Championship events, making her one of the most decorated gymnasts in the U.S history.
She made a record when she won four gold medals at the 2016 Olympics in the all-around, team, floor exercise, and vault competitions.
As a skilled gymnast, Simone has managed to accumulate a net worth of $2 million through her athletic career.
Simone Biles Dating Boyfriend
Some people click in an instant, and some people take a longer time. And in case of Simone, she clicked with her boyfriend a lot later from their first meet.
Simone met Stacey Ervin, an Elite gymnast sometime in 2014, but the two didn't share any romantic feelings then. However, when they met three years later in 2017, it was a different scenario. 
Take A Look At: Paris Berelc Boyfriend: Who Is She Dating? Parents, Age, Height
Both found interest in each other and started dating, but kept their relationship out of the limelight. It was only in 2018 when Simone went official on Instagram with her boyfriend.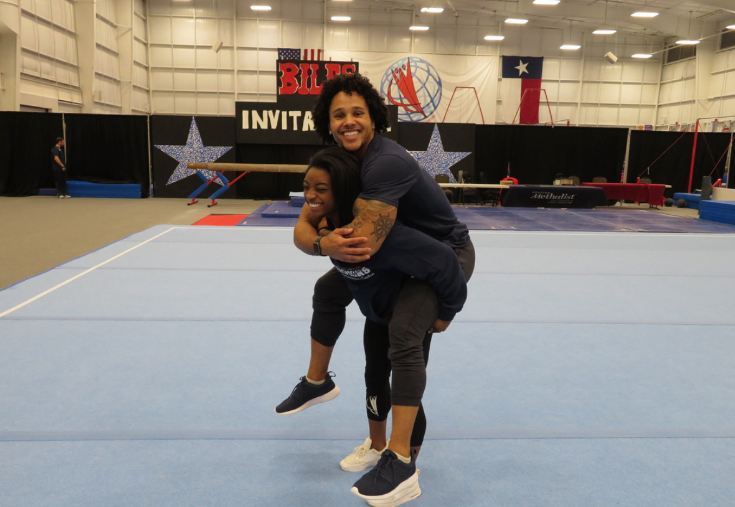 Simone Biles fooling around with her boyfriend, Stacey Ervin, in 2018 (Photo: yahoo.com)
Ever since they started dating, the couple has been enjoying their moments together and are connecting through their common interest and passion for gymnasts.
Looking at their goofy pictures, it is no wonder their fans adore them and ship them hard.
Simone Biles Facts: Parents & College Life
Simone Biles was born in Columbus, Ohio on 14th March 1997. Her grandparents, Ronald and Nellie Biles, raised her after her mother, Shannon Biles, struggled with substance abuse.
Simone grew up with her three siblings, Ronald, Adam, and Adria. 
Talking about her parents, her mother, Shannon, was a drug and alcohol addict. Shannon gave up her four children for adoption when Simone was six years of age.
On the other hand, Simone's father, Kelvin Clemons, also struggled with addictions, and abandoned the family and was never present in Simone's life.
Simone's grandparents officially adopted her and her younger sister, Adria, while her older siblings were taken in by her grandfather's sister. Simone became so close to her grandmother that she started calling her "Mom."
When she was at a very young age, Simone visited a gymnastics center on a field trip with her daycare group.
There, her gymnastic coach noticed her imitating the other gymnasts. Notifying her skills, her coach sent home a letter requesting that she joined tumbling or gymnastics.
You Might Like: Brittany Arrieta Bio, Age, Parents, Net Worth, Now
And after that, her grandmother has been a great source of support throughout her journey to the gymnast world.
Other facts on the gymnast reveal that she stands at an average height of 4 feet 8 inches (1.46 meters) and has a balanced weight of around 47 kg (105 pounds).
Simone turned to homeschool from public school to focus more on her training, which drastically improved her skills.
She graduated her secondary education in the summer of 2015. She originally planned to enter UCLA to complete her further education, but she was busy in her career. 
Later in January 2018, she joined the University of the People to study Business Administration and became the brand ambassador of her college.