Sometimes your struggles are enough to describe you as a person. They not only portray your life stories but also characterize you. And it's all your characters that work for the person you make out of yourself. 
Reputed basketball player, Rodney Rogers faced a whole lot of struggles during the early phase of his life. His early family life was completely messed up, but with his hard work, he excelled in basketball as soon as he landed in the field. 
After years of dedication to basketball, Rodney had a part of the time in his life, that taught him the greatest lesson of all. He went through a severe accident that got him paralyzed from neck down. 
For an athlete, an accident is the most challenging part of life. But Rodney's optimistic nature has always overpowered the pain he has of his condition.
Through this, Rodney has always been an inspiration to many.
Rodney Rogers Bio: Age, Family
The 20th June 1971 born basketball star, Rodney Ray Rogers is 48 years of age in the time being. The Durham, North Carolina native, stands tall at the height of 6 feet 7 inches (2.04 meters).
See Also: Who Is Openly Gay Jason Collins Partner At Age 40? Brother, Salary
During his young age, Rodney went through the most challenging family struggle. His father left the family when his mother got critically injured out of a car accident.
Rodney's father died very early when he was just a little boy. Rodney, along with his brother and sister, grew up in Durham's McDougald Terrace housing project.
In the year 1990, the only person Rodney referred to as "Dad," his step-father, also died. Those series of gloomy events in Rodney's life were undoubtedly the most difficult ones.
However, those events are the ones that have made Rodney a stronger person to cope up with his present difficulties. 
Hence, up to now, Rodney has made a bunch of experiences that help to encourage many in the future. 
Rodney Rogers Married To Wife, Daughters
Rodney was married to his first wife during the rise of his basketball career. He had two daughters, Roddreka, Rydeiah, and son Rodney Rogers II with her. The two got divorced, after which Rodney remained single for quite some time. 
However, two years later of his accident, Rodney got married to his girlfriend for a long time and later fiance, Faye Rogers. Faye's accepting and marrying Rodney, despite his physical disability, is the proof of her immense love for him.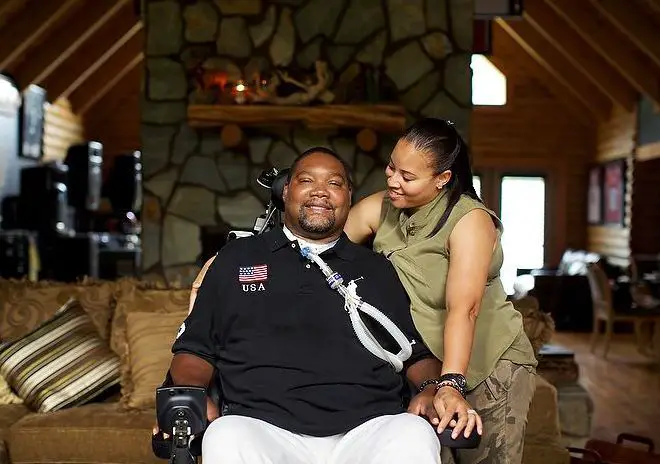 Rodney Rogers looks happy spending times with his wife, Faye Roger (Photo: magazine.wfu.edu)
Rodney and Faye not only love each other but also admire one another's being. Thus, as of now, the two are living a happy family life, participating in different events, learning and influencing people all around. 
You May Also Like: Gloria Govan Wiki, Bio, Married, Husband, Divorce, Boyfriend, and Net Worth
Hopefully, this bond of Rodney and his wife remains the same for a lifetime. 
NBA Career, Net Worth
In his early days, Rodney went to many schools. However, for his high school, he attended the Hillside High School and later went to Wake Forest University.
During his Wake Forest days, Rodney made significant achievements in the field of basketball. While in Wake Forest, Rodney was given the professional position of All-American basketball player. 
Similarly, in the year 1993, he was chosen as the Atlantic Coast Conference. In the latter days of his career, Rodney got associated with the NBA for his lucrative career with the Denver Nuggets and Los Angeles. 
Through his basketball career days in NBA, Rodney's earning was estimated to be more than $26 million. Thus, this level of making must have helped him with his health care, checkups, and medicines.