Lisa De Vanna is one of the most acclaimed goal-scorers in women's soccer history in recent times.
She has been a regular in the Australian team ever since making her debut in a 2-0 win over New Zealand in the year 2004.
It was the same year that she got to go for the Athens Olympics and score fantastically against Sweden in the quarter-finals. 
In the international platform, Lisa made a name for herself at the 2007's FIFA Women's World Cup where she scored four fantastic goals, eventually leading Australia to the quarter-finals.
And, for the astounding efforts, the star forward was named to the tournament's all-star team. 
Looking back, the two goals in a 4-1 win over Ghana at the FIFA Women's World Cup in 2007 would always be the memorable moment of Lisa's sports career. 
Lisa De Vanna's Age & Family Details
Lisa, age 34, was born on 14 November 1984 to a Portuguese mother and Italian father.
Her father, Frank died after a long illness three months prior to her World Cup tournament in 2007.
More Of Sports World: Laura Rutledge Married, Husband, Parents, Salary
And he was the one on her mind the whole time, especially when on the ground, aiming for the goals.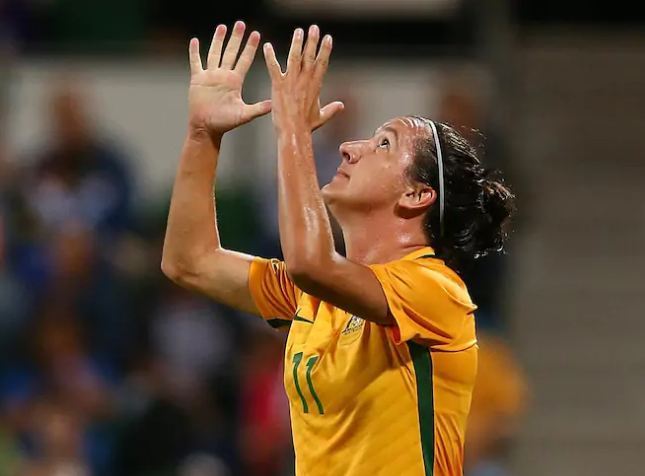 Lisa De Vanna caught in the moment during the women's international match at Pepper Stadium in September 2017 (Photo: perthnow.com.au)
Every single score she made was a tribute in her mind to her father. 
Forever grateful for the beloved ones in her life, Lisa makes sure that they know their importance in her life.
In one of her interviews, she could not help but gush about her mother and sister, "My mum and sister are a big influence on my life." 
Although Lisa now boasts a more than comfortable fortunes in her net worth and earning the best salary one could ask for, she went through some financial crisis early on in life that even came in between her career path. 
Lisa and her sister, Sonia, a wanna-be football star, would spend their Saturdays raising money so that Lisa could go to a national schoolgirls' camp.
Her mother, Connie sure supported to some extent but then she herself had difficult times earning a living. 
Looking back, the family might feel blessed to see how far they have come from bad times in life. 
Married To Husband
Lisa's life stories that have been covered by several media outlets for some reason fails to cover her dating life; be it in the past or in the present times.
Get To Know: Allison Schmitt Husband, Family, Net Worth
And, for the most part, Lisa is not one to spill the beans about her partner and all.
This being the matter, it is not the apt moment to tell whether she is married to a husband or not.
More than that, Lisa who stands to a height of 5 feet 127⁄64 inches (1.56 meters) with a weight of 56 kg in her athlete built, congratulated her friends and footballing teammates (who openly came out as gay) on their engagement.
And her fandoms could not stop wondering if Lisa would give them the same opportunity someday.