Janel McCarville is an American professional basketball player. Without her realizing, basketball- the mere hobby suddenly became her passion and drive in life.
She has had a brilliant career, and currently, she is one of the most decorated players in WNBA. She became the WNBA Champion in the year 2013, and this is the most significant achievement of her life.
Janel McCarville played for several teams throughout her career, and she proved to be handy for each one of them.
Janel McCarville's Bio
Janel McCarville was born on 3 November 1982 in the place called Stevens point in Wisconsin. She holds an American nationality.
Her father, Terry McCarville and her mother, Bonnie McCarville provided her and her siblings with all they could afford. Her parents never came in between her dreams. Instead, they pushed her to pursue her passion.
Unlike other basketball players on her high school team, she did not grow up playing in youth programs. Instead, she played in her father's 160-odd acres of rolling Wisconsin farmland.
Find About: Who Is Openly Gay Jason Collins Partner At Age 40? Brother, Salary
When she was 13, her father attached the basketball hoop on a barn, next to a 10-by-20 concrete slab.
She chose Stevens Point Areas High School for her education and sports training. Later, she also went to Minnesota College for her game during the years 2001 to 2005.
Her first coach, Kraig Terpstra recognized the style in her game and played a significant role in shaping her up over her raw skills.
Career & Net Worth
Janel's professional sports career started in the year 2005.
She and her teammate Lindsay Whalen- led the University of Minnesota to four NCAA tournament including two Sweet 16s and 2004 Final Four. Janel McCarville played a whole of 126 games with this team and gave some top-notch performances.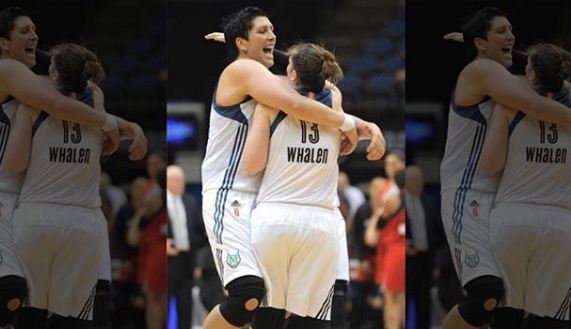 Janel McCarville and her teammate during their big match on 8 July 2016. (Photo: Janel McCarville's Instagram)
In her career, she signed contracts with several teams and led them to mega wins. Some of them being, Charlotte Sting, Good Angels Kosice, AlK Basket, Liaoning Hengye, and Famila Wuber Schio.
In between the journey, she also won Euro League back in the year 2010, and this was three years before her championship success. She was awarded as WNBA Most Improved Player in the year 2007.
However, like many professional players, she has had her share of highs and lows. In 2005, she went through a major career-crisis when she was out of multiple games because of injury.
Janel is one of the most highly paid WNBA players in the world. She reportedly gets paid a staggering $101K. Her net worth is $3 million.
Personal Life
Janel is openly lesbian. She is not married and does not have a husband. She might be dating girlfriend or a partner, but the diva player has not revealed anything so far.
Also A Basketball Player: Jessica Olsson Bio: Age, Husband, Height, Net Worth And More
Her current bio is inspirational enough already. In her social media, she mostly shares opinions on some real matters and mostly limits it to her professional achievements.
Therefore, it might be too soon to come to any conclusions in regards to her relationships and dating life.