Gabby Douglas began rehearsing gymnastics when she was six. 
It was her mother, Natalie Hawkins, who identified Gabby's true calling and thus enrolled her into formalized coaching.
The young bud, absorbed everything so well, never even realizing that a few more years, and she would be placed first in the Virginia State All-Around gymnastics. 
As of now, Gabby has established herself as a prominent artistic gymnast to watch out for in the industry. She is the first African-American in Olympic history to become the individual all-around champion. 
It did not take long for the filmmakers, to tag along with the 23-year-old's success story, as they tried adopting all the highs and lows of her life into a 2014's biopic film, The Gabby Douglas Story.
More From The Sports-world: Alana Beard Husband, Family, Net Worth
The very project surely added a significant amount of pluses in her life. Most importantly, it enhanced her existing net worth at the time. Meanwhile, today (2019), Gabby flaunts a whopping six digits of $3 million.
Gabby Douglas' Family Support, Parents
Gabby knows it for sure that she has her family to back her up at all times. She is used to relying on them for their guidance and encouragement.
Especially her mother, who besides acting as a role model, serves as her manager.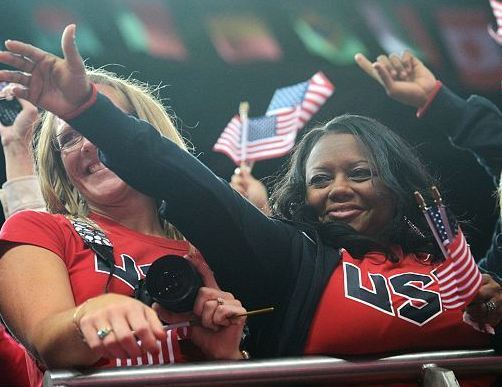 Gabby Douglas's mother, Natalie Hawkins, as she cheers on her daughter with so much pride in her eyes (Photo: dailymail.co.uk)
Having raised her four kids as a single parent, Gabby's mother sure went through her own hardships. However, she never allowed her children to settle for anything less. She consistently inspired them to aspire for more and the most part, staying positive. 
Gabby was born to her parents as Gabrielle Christina Victoria Douglas in Virginia Beach, Virginia on 31st of December 1995. She grew up alongside her three protective older siblings, Arielle Douglas, Johnathan Douglas, and Joyelle Douglas, who always wanted the best for her.
So far, it is not unwrapped what incident led her mother to act as a single parent. However, Gabby kept it quite open that she does not have good things to say about her father, Timothy Douglas.
Timothy, a staff sergeant in the Air National Guard, married Gabby's mother, twice. But even the multiple "I do's" could not keep their marriage from falling apart.
Interesting To Read: Carmelita Jeter Husband, Net Worth, Family
Gabby admittedly accused that her father was after her hard-earned fame and money. 
Married To Husband?
Gabby has so much going for her in the current stage of her life, an escalating career ahead of her, and a family squad cheering for on every single game of hers.
However, the romantic department of her life still appears to be un-tended. With her 4 to 6 hours of lengthy training sessions six days a week, she can not afford to play dressing-up for a romantic candlelight dinner with a boyfriend, let alone get married to a husband.
She revealed that it would be unfair for a guy to be in a relationship with her now that she is always traveling and competing for the trophies.
Talking about her fitness strived physique, Gabby stands to a height of 5 feet and 2 inches (1.57 meters) while her weight varies somewhere around 50 Kg.