Brock Huard is a former American football quarterback in the National Football League (NFL). Until 1998, he was a quarterback on the University of Washington's football team.
Soon, he got to play for the Seattle Seahawks in the third round of the 1999 NFL draft. Many golden opportunities followed after that as Brock got to play for many seasons at Seattle Seahawks and Indianapolis Colts. 
Besides his career as an athlete, Brock also involved himself in the field of sports broadcasting, doing numerous radio and television gigs. He joined the most prominent media platform, ESPN in August 2008.
Now, he is affiliated as a college football analyst for FOX and radio host for 710 ESPN Seattle. 
Detailed Bio: Height, Family & Siblings
Brock, age 43, comes from a family of talented quarterbacks. He was born on as Brock Anthony Huard on 15 April 1976 in Seattle, Washington.
The physically fit and agile stud who stands to a fantastic height of 6 feet and 4 inches (1.93 meters) grew up playing soccer with his brothers, Damon, and Luke in the Sparks Stadium where his father, Mike Huard coached them.
Today, all of the Huard siblings are established in their sort of way in the sports career. For them, the famous proverb needs slight modification, "the family that plays together, stays together." 
Continue Reading From ESPN: Trev Alberts Married, Wife, Net Worth
Brock's mother, Peggy, and his father brought their sons up as they worked in the Puyallup School District.
Even today, his parents have their home right down by the stadium where Brock grew up flaunting his big games. 
Brock Huard Married To Wife, Children
Brock met his soulmate, Molly (Hills) Huard at the University of Washington, probably during some sports and the two got married soon after graduation.
Like him, Molly is also passionate about sports and everything related to it. Maybe the very cause brought them together. 
Brock and Molly, the avid basketball player since her college days, are now proud parents of their daughter, Haley Huard, a state champion basketball player who is affiliated to NW Blazers. 
Besides Haley, they have two more kids, their younger daughter, Macey and the youngest one, a boy.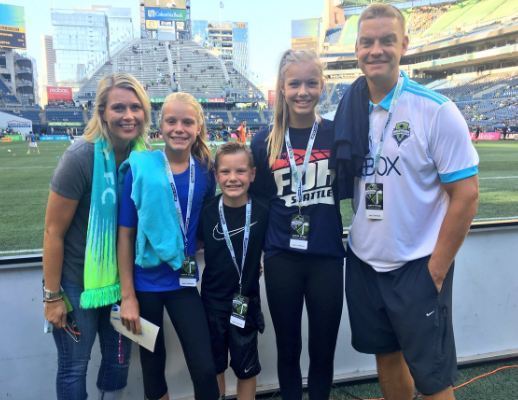 Brock Huard with his wife, Molly (Hills) Huard and three children, Haley, Macey and the youngest son enjoying their time at night at Century Link Field on 27 August 2017 (Photo: Brock Huard's Twitter)
They lead an incredible Christian household in Kirkland parenting their beautiful children. 
Every day is a new experience for the husband-wife duo who raise their kids with the music all the time lingering in the air; be it inside their beautiful house or their five seaters and more fuel-efficient car.
The couple practically lives in their car, running to and fro between the soccer or basketball games of their kids who are sports oriented like their parents.
Salary / Net Worth
After 12 years of his affiliation at ESPN as a college football analyst, Brock moved onto even more significant opportunities at the FOX in May 2019. 
There, he roleplays as a color commentator in the network's No. 2 college football broadcast team. 
Also From FOX: Eric Wynalda Married, Wife, Divorce, Children, Family, Net Worth
Now, Brock has separate contracts with 710 ESPN station in Seatle and with ESPN television. 
The newly joined platform pays him an average analyst salary ranging from $65K to $71K. Besides, the average base pay as a radio host on ESPN is nearly an estimated of $54K, all of it landing onto his increasing net worth.