World champion gymnast, Bridget Sloan won a silver medal at the 2008 Olympics in Beijing as a USA team member.
She even dominated the 2013 and 2014 NCAA Championships while she was attending the University of Florida.
Winning gold medals in the all-around, uneven bars, balance beam, and team events, the gymnast, made a mark in her career as an unforgettable athlete.
She earned immense respect for taking her college to new heights of success through her hard work, skills, and dedication. 
As of 2019, the 2008 Olympian is a gymnastic analyst for the SEC Network, and she also has a sales job, working with construction and selling. She sells industrial lubricants while still doing what she loves to do.
Besides, through her career as a gymnast, Bridget must have managed to gather a significant net worth and must be adding to it through her sales job.
Bridget Sloan Married / Dating Boyfriend?
Bridget Sloan is not married, and she has never been open about her dating life. She hasn't shared anything about her boyfriend so far. But, she does mention how the existence of cute little animals surpasses her need of a boyfriend.
Learn Also About: Is Jamie Erdahl Married? Her Husband, Wedding, Age Details
On 13th October 2016, she expressed her love for her dog as more important than having a boyfriend. 

Bridget Sloan talks about not needing a boyfriend on 13 October 2016 (Photo: Bridget Sloan's Twitter)
Whether she ever falls in love with a man or not, she falls for her dog every day. She seems to love animals and expresses that feeling openly to the world. But she never really talks about her actual date and love life. 
On 18th August 2018, Bridget went on a date with Jordan Kimball, a part of the Wilhelmina Modeling Agency in Chicago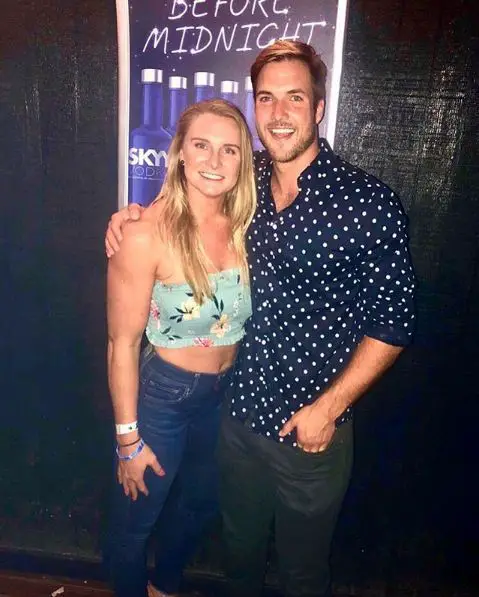 Bridget Sloan with her date of the night, Jordan Kimball, on 18 August 2018 (Photo: Bridget Sloan's Instagram) 
Although she addressed him as "babe" in her post, she also cleared out the fact that he was not her boyfriend in the same post. 
Making everyone confused and more curious, Bridget has managed to keep her romantic side hidden from unwanted public attention. 
Although she might have plans to get married in the future, right now, the gymnast doesn't seem to be ready to put her love life out there. 
Bridget Sloan Bio: Parents & Age
Bridget Sloan was born on 23rd June 1992 in Cincinnati, state of Ohio. Her parents raised her in Pittsboro, Indiana, alongside her two brothers, Kyle and Nathan, and her sister, Kassie.
Take A Look At: What Is Arianny Celeste Salary & Net Worth? Boyfriend, Dating, Age
She considers her mother, Mary Sloan, to be a superwoman, for taking care of everything smoothly. And she respects her father, Jeff Sloan, who has coached high school soccer teams. All of her siblings also participate in various sports.
Furthermore, Bridget, age 27, stands at the height of 5 feet 1 inch (1.55 meters) and has a balanced weight of 47 kg (104 lb).
Bridget began gymnastics when she was four years of age and trained at Sharp's Gymnastics Academy in Indianapolis.
At the age of 10, she entered in USAG Child Elite National Team and went on with her studies, graduating from Tri-West Hendricks High School in 2011. 
Later, Bridget attended the University of Florida and received a bachelor's degree in Radio and Television Broadcasting. She majored in Telecommunications, Media and Society.
During her college days, she was in the gymnastic team and helped her team win three National Championships. She finally graduated from her university in 2016.