Albert Breer is a famous name in the American sports arena for consistently reporting and providing news about the National Football League (NFL).
The NFL reporter had a controversial exit from NFL Network as he stated that "it was a very limited place in a lot of ways" in 2016. 
Keeping his professional career aside, Albert is a passionate runner as he regularly ran about 5-7 miles every morning in his childhood and successfully made to two Boston Marathons.
Albert Breer's Parents
Albert was born to his parents on 26th January 1980 who shared different nationalities. Albert's father was an American who grew up in Grosse Pointe, Michigan, whereas his mother was born in Austria and grew up in European culture. 
His parents were very active and conscious of their health and daily exercises as they never missed a day without running in the morning. That might be the reason why Albert is passionate about running, too. 
Apart from just running, the Breer family shares a good bonding and great love among each other. 
Peek Into The Life Of: Mark Giangreco Wife, Family, Net Worth, Now
Albert Breer grew up in Massachusetts, a state of US, and joined The Ohio State University for his education in 1998 and graduated in 2002. 
Married / Wedding Details With Wife
Albert Breer got married to his wife, Emily Burkott, on 14th June 2013.
The couple shares their confusion over their first meeting as Albert believes he initially met Emily while he was training for his median Boston Marathon in 2009.
But Emily believes that they met at a Halloween party a year earlier in 2008. 
Albert and Emily are parents of two children already while they are preparing for their third child this year.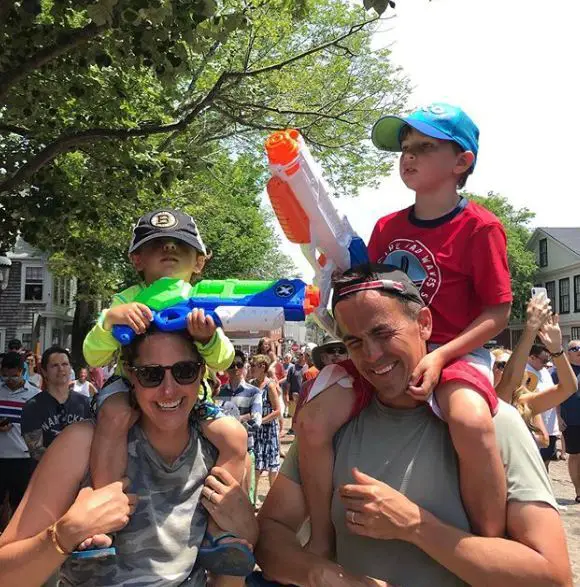 Albert Breer, Emily Burkott, and their two sons having a fun time (Photo: Albert Breer's Instagram)
It was on 21st June 2019 when Albert expressed his happiness of completing six years of their wedding and shared the news about his wife's pregnancy through his Instagram. 
When it comes to his multitasking wife, Emily Burkott is professionally engaged in Cardiac ICU at Boston Children's Hospital, apart from being a good wife and mother of two.
Net Worth In 2019
Albert Breer had been a significant asset for NFL Network before he left his duties as an NFL writer in 2016 after working for about five-and-a-half years. 
Find More: Jac Collinsworth Wiki, Age, Net Worth, Parents, Wife
Albert joined Sports Illustrated right after leaving NFL Network and started doing "Monday Morning Quarterback." 
As of 2019, he continues his service at Sports Illustrated as Senior NFL Reporter and Lead Content Strategist. 
Albert Breer, who stands at an average height, has earned a fair amount of net worth over his long career in media and news reporting. The NFL reporter, however, hasn't openly disclosed his net worth. 
Nevertheless, there is no doubt that Albert earns more than the average salary of a US-based sports news reporter that ranged from $36K.