YouTube personality Queen Naija is well-known for her story time, music and makeup-related vlogs on her self-titled channel. She was also formerly known as one half of the channel Chris and Queen, which consisted of vlogging, pranks, challenges, and more with her ex-husband.
But her personal life is not as successful as her professional life; Naija who was enjoying her married life to the fullest had to face a painful divorce from her ex-husband.
Naija's Relationship With Ex-Husband
Queen Naija was previously married to her longtime boyfriend Christopher Sails back in 2017. However, the relationship between Christopher and Naija did not last long, and they parted the ways.
Christopher and Naija first met each other at the school's basketball game in April 2013. After dating for four long years, the couple got married in 2017. Eventually, they became the proud parents of their son, whom they named Chris Jr. They were not only life partners but were also YouTube partners.
Read Also: Lidya Jewett Wiki, Age, Birthday, Height, Parents, Family, Net Worth, TV Shows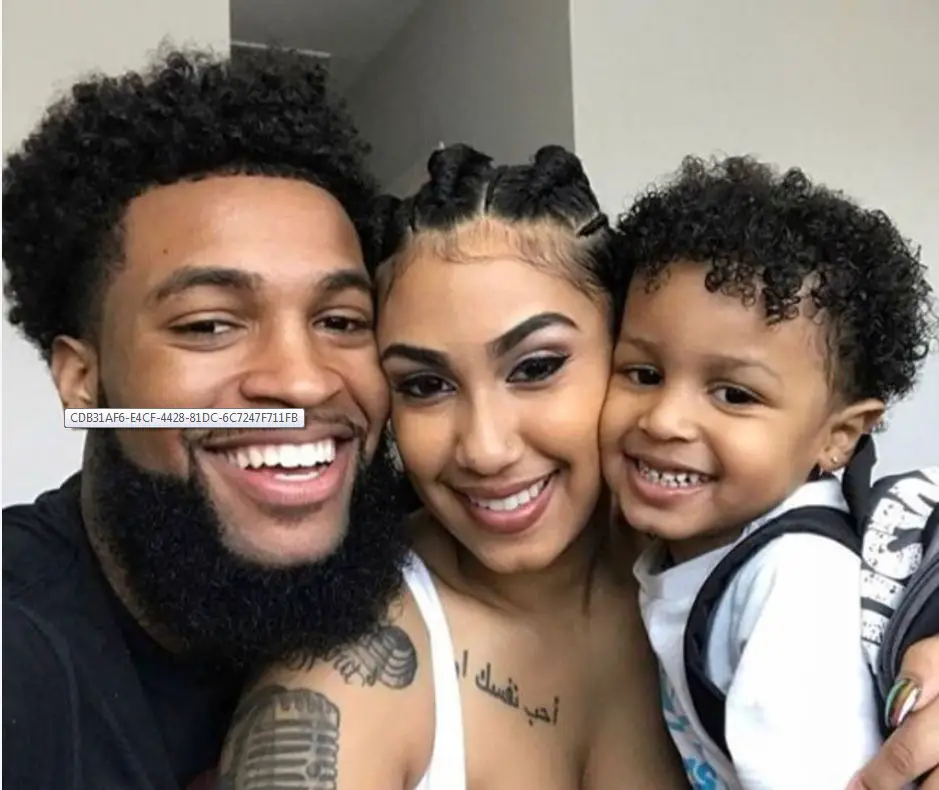 Queen Naija relishes time with husband Chris, and their son Chris Jr. (Photo: the shaderoom)
As published in Clevver in September 2017, YouTuber Chris Sails later admitted that he cheated on his longtime love Naija for multiple girls. He said:
"I messed around with other females," and. "I'm not happy, not one bit. I talked to other females. Sometimes I just thought our relationship was going to end."
Chris even admitted it was totally his fault and wanted to apologize to everybody that looked up to him, and first and foremost, to his ex-wife who is the queen of his eyes.
After the divorce, Naija uploaded her own vlog from an airport and confirmed that her husband was a cheater and explained that she needed to take some time to herself. She explained
"I'm at a loss for words," she said. "He was unfaithful, and I need time to clear my head."
Since the divorce from her husband, Naija has moved on and is relishing her days as a mom to her little one. Interestingly, her social media account hints that she could be in realtionship with a man named Clarence. 
Her Instagram is flooding with the pictures of Clarence and in one of her picture updated on 3 June 2018, she praised him for his support and wrote, 
"I was so nervous about performing y'all but I made it through and I had so much support. He's always supporting me heavy, that's why I F with him"
Speculating at the pictures, it does seem like the pair is in a relationship. However, they are yet to confirm their dating. 
You Might Like: Kellee Stewart Bio, Family, Siblings, Height, Married, Husband, Boyfriend
Naija's Short Bio, Career, Net Worth
Naija, birth name Queen Bulls, was born on 17 October 1995, in Michigan.
Naija, who currently ages 22, belongs to American nationality and born with Afro-American ethnicity. Naija, whose birth sign is Libra, looks beautiful in the tall height which suits her personality very well.
Queen Naija came to limelight when she participated in the eighth season of American Idol. Though she got through the audition round, she could not go further and was eliminated during the Top 15 selection in the Hollywood round.
After her failure, Naija started concentrating on her career in YouTube wherein she started to upload her story time, music and makeup-related vlogs in her self-titled channel.
Later, together with her partner Christopher, she started a YouTube channel, 'Chris and Queen.' They started posting videos of them vlogging, playing pranks, and challenging one another. Chris provided managerial support to her by looking after her account. He also participated in the videos.
See Also: Kathreen Khavari Wiki, Married, Husband, Boyfriend, Parents, Bio, Height
To satiate her fans' hunger, she released her self-titled EP, Queen Naija on 27th July 2018.
Released by Capitol Records, the five-song collection includes her new "Karma," which pushed Naija to the top of Billboard's Emerging Artists chart, and her debut single, "Medicine." It also featured three new songs including, Mama's Hand, Butterflies, and Bad Boy.
Detroit-based singer Naija debuted at No. 45 on the Hot 100 with her first single "Medicine." With the release of its official video on 29 March 2018, the song surged by 108 percent to 16.5 million U.S. streams and 126 percent to 5,000 downloads sold in the week ending April 5.
'Karma' is Queen Naija's second single that was released on 29 June 2018.
Naija as a YouTuber and a singer has earned a huge sum of income after establishing herself in social media realm. According to a socialblade, her monthly earnings is $5.3K to $84.8K, and her estimated yearly earnings are $63.6K to $1M. Her income per year includes her basic salary. Moreover, Naija's net worth might cross the million dollars mark.
Don't Miss: Ginger Gonzaga Bio, Age, Height, Parents, Ethnicity, Boyfriend, Dating